WatchGuard New Products

Newest Products from WatchGuard!

In early June 2020, WatchGuard introduced our latest range of tabletop Firebox hardware. Firebox T20, T40, and T80 are specifically engineered for the needs of midsize and distributed enterprise, consolidating the most important network and network security functions in a small form-factor tabletop platform. Each appliance provides a complete and industry-best set of threat management solutions, including gateway antivirus, content and URL filtering, antispam, intrusion prevention, application control, Cloud sandboxing, and endpoint protections, all in an easy-to-manage package. The new appliances also deliver improved throughput, especially in HTTPS inspection. The release of Firebox T20, T40, and T80 gives you a powerful tool for administering and enforcing policy across your customers' extended network, allowing you to bring full UTM protection to small and medium-size environments for tighter security.
Key Features:
Integrated Wi-Fi (T20-W and T40-W) The Wi-Fi capable Firebox T20-W and T40-W support the 802.11ac Wi-Fi standard, ensuring faster speeds for your customers.
Power over Ethernet - PoE+ Integrated support for PoE+ means they can avoid running separate power cables to peripheral devices like security cameras, VoIP phones or wireless access points.
SD-WAN Our new T Series models make network optimization easy. With integrated SD-WAN, they can decrease their use of expensive MPLS or 4G/LTE connections, while improving resiliency and performance of their network.
IntelligentAV and Access Portal Now available in Firebox T40/T40-W and T80 models
Optional Expansion Module (T80) Firebox T80 includes the option to customize their port configuration with expansion modules for integrated fiber connectivity right from the appliance. Optional 1Gb SFP expansion modules are available.
Automation Core WatchGuard Firebox T Series appliances are designed with automation to the core, allowing IT teams to do more with less. Deploy from the Cloud, update signatures, detect and kill malware – all without lifting a finger.
WatchGuard Firebox Models: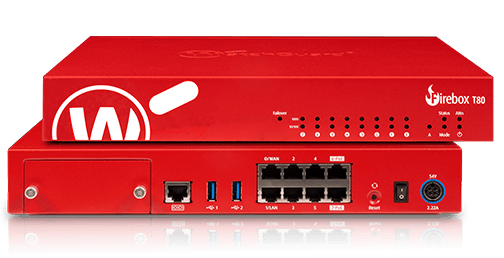 8 Gigabit Ethernet ports support highspeed LAN backbone infrastructures & gigabit WAN connections.
Two integrated PoE+ ports for powering peripheral devices.
Adapt as your network evolves, with optional SFP+ fiber port expansion modules.
All logging and reporting functions included with purchase, with over 100 dashboards and reports including PCI and HIPAA.
In June, 2020, WatchGuard acquired Panda Security, enabling customers and partners to consolidate their fundamental security services under a single umbrella, backed by the high quality of service that is a core part of both companies' DNA.
WatchGuard's endpoint security services have traditionally focused on extending network security to protect employees while off-network using DNS-level protection, multi-factor authentication, and some network security features – packaged together in our easy-to-buy WatchGuard Passport offering. With Panda's comprehensive endpoint security platform, we've added endpoint protection AV services and innovative EDR capabilities – furthering our vision to deliver advanced threat detection and response functionality fueled by modern AI capabilities, behavior profiling techniques, and cutting-edge security event correlation, and additional operational benefits such as centralized management across network and endpoint security.
With the integration of Panda Security, WatchGuard will now be able to offer a full portfolio of user-centric security products and services for protecting people, devices, and the networks they connect to from malicious websites, malware, spam, and other targeted attacks. With offerings for businesses and consumers alike, Panda Security brings advanced endpoint protection, sophisticated threat hunting services, and more to the WatchGuard portfolio.
WatchGuard Panda Models:
WatchGuard Rackmount Models:

Custom fit rack mount kit for WatchGuard Firebox T20 / T40
Easy 5-minute assembly in a 19 inch rack.
(Dimensions) 1.73 x 18.98 x 8.54 in

Custom fit rack mount kit for WatchGuard Firebox T80
Easy 5-minute assembly in a 19 inch rack.
(Dimensions) 1.81 x 18.98 x 8.54 in