WatchGuard AP100 Indoor Access Point

Wireless Indoor Access Point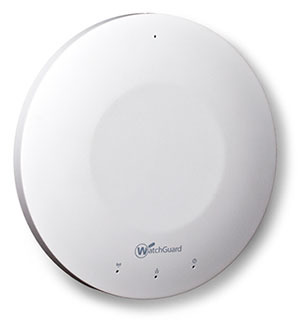 Sorry, this unit has been discontinued and is no longer available for purchase, replace by WatchGuard AP130. End of Sale (EOS): 31 Dec 2016. End of Life (EOL) for the WatchGuard AP100 is 31 Dec 2019 - you will not be able receive support after this date even with a 1 Year contract.
WatchGuard Access Point Overview:
The mass adoption of smart wireless devices like tablets, smartphones and notebooks is driving the BYOD (bring your own device) explosion, putting ever increasing demands on wireless networks. This pressure, coupled with the exponential growth of applications and cloud services available to end-users, means it is now more important than ever to have control of your entire network – both wired and wireless – with best-in-class security, integrated security policies, and increased visibility.
Extend best-in-class UTM security to the WLAN
Protecting against today's sophisticated blended threats requires multiple security capabilities, and these threats don't discriminate between a wired or wireless network path to their targets. WatchGuard's wireless access points meet this challenge by extending best-in-class UTM security – including application control, intrusion prevention, URL and web content filtering, virus and spam blocking and more – from your WatchGuard firewall to the WLAN. With these appliances, businesses can harness the power of mobile devices and wireless networking – both indoors and outdoors – without putting network assets at risk.
Integrate wired and wireless security policies
WatchGuard's integrated wireless controller technology combined with WatchGuard's AP100, AP102, AP200, and AP300 wireless access points allows users to easily apply security policies to wired and WLAN resources simultaneously , which is critical to enforcing security standards across the entire network infrastructure. And updating integrated policies couldn't be simpler – creating huge IT time and cost savings.
Unified device management
Unified device management tools offer a "single pane of glass" view into network security activities and allow users to configure and manage their WatchGuard wireless access points and WatchGuard firewall from one place – reducing both setup time and maintenance costs.
Key Features:
Ease of management - With unified management tools, administrators can easily manage both their AP devices and firewall appliances from a single console
Strong security - Features like MAC filtering, client reporting, Captive Portal technology, 802.1X authentication, and PCI compliant scan and reporting ensure a strong WLAN security stance.
Great coverage, low profile - Powerful radios and custom internal antennas provide broad, reliable WLAN coverage. Sleek enclosure designs create subtle deployment profiles suitable for any space – both indoors and outdoors.
Best-in-class hardware - WatchGuard's fastest access points are built using the latest 802.11ac technology, capable of gigabit speeds. Other models feature 802.11n technology for operation in 2.4GHz and 5GHz frequency bands
Lower TCO - Integrated wireless controller technology helps realize big cost savings, with no separate controller hardware costs, no per-AP "seat" charges, and no controller software license fees.
Pricing Notes:
Pricing and product availability subject to change without notice.
Please note: Watchguard Wireless APs need to be managed by a Watchguard Firewall and will not operate as stand-alone access points.