WatchGuard Firebox M290

Up to 2.4 Gbps UTM throughput

WatchGuard Products
WatchGuard Firebox M290 with Basic Security Suite
Back to top
Includes: Basic Security Suites include Appliance, Standard Support (24x7), Application Control, WebBlocker, spamBlocker, Gateway Antivirus, Intrusion Prevention Service, Reputation Enabled Defense, and Network Discovery
WatchGuard Firebox M290 with 1-yr Basic Security Suite
#WGM29000701
List Price:
$2,675.00
Our Price: $2,086.50
WatchGuard Firebox M290 with 3-yr Basic Security Suite
#WGM29000703
List Price:
$4,290.00
Our Price: $3,346.20
WatchGuard Firebox M290 with Total Security Suite
Back to top
Includes: Total Security Suites include Appliance, Gold Support, Basic Security Suite, APT Blocker, Data Loss Prevention, Dimension Command, Access Portal, DNSWatch, IntelligentAV, Cloud, and Threat Detection & Response
WatchGuard Firebox M290 with 1-yr Total Security Suite
#WGM29000801
List Price:
$3,760.00
Our Price: $2,932.80
WatchGuard Firebox M290 with 3-yr Total Security Suite
#WGM29000803
List Price:
$6,865.00
Our Price: $5,354.70
More pricing below, click here!
Overview:
Enterprise-Grade Security for Small to Midsize Businesses
Because smaller companies are generally less protected and easier to break into, small business has become the new big target for cyberattacks. The Firebox M290 and M390 firewalls are specifically engineered to defend all types of small businesses against attacks that are no less fierce than those targeting larger organizations.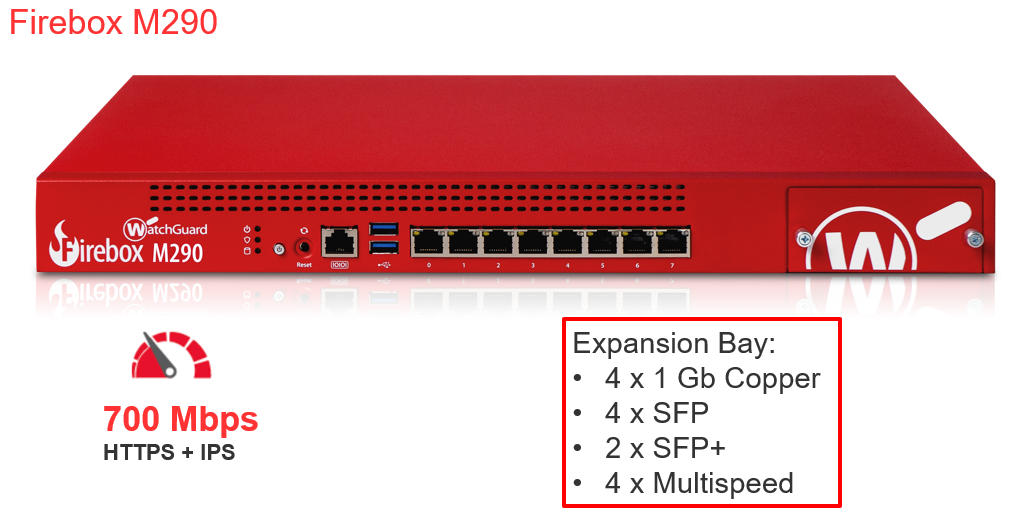 Automation To The Core
WatchGuard Firebox M Series appliances are designed with automation to the core, allowing your IT team to do more with less. The WatchGuard Automation Core makes it possible to deploy from the Cloud, block threats, update signatures, and detect and kill malware, all without lifting a finger.
Quick And Simple Deployment
With WatchGuard Cloud, IT staff can create and store configuration data in the Cloud (public or private) and have the appliance directly shipped to its destination. Once the device arrives, it can connect to the Cloud for a secure download of its configuration settings, saving your staff travel time and money.
Unified Security Defeats Complexity
The WatchGuard Unified Security Platform™ is a true force multiplier for IT teams. It makes operational ease possible by integrating the WatchGuard Firebox with WatchGuard's authentication, endpoint security, and Wi-Fi solutions to enable comprehensive, multi-layered security. Unifying security into a single platform unlocks efficiencies simply not possible with siloed systems, allowing for automation of frequent manual tasks that take up time.
A Cloud's-Eye View Of Your Entire Network
WatchGuard Cloud provides full visibility into your network so that you can make timely, informed, and effective decisions about your network security anywhere, anytime. The platform displays 100+ dashboards and reports that allow you to quickly see high-level trends and anomalies, then drill down into detailed information on each.
Expansion Modules For Greater Port Density
The Firebox M Series provides expansion bays that can be used to add network modules to define a configuration that meets the needs of almost any network configuration. Each appliance has an open module bay for expansion modules, with options for 4 x 1 Gb copper, 4 x 1 SFP, 2 x 1 SFP+, or 4 port multispeed ports. Network modularity empowers IT pros to customize the port configuration to meet their needs, while ensuring the flexibility to adapt the firewall as their network evolves.
Benefits
Enterprise-grade prevention, detection, correlation and response from the perimeter to the endpoint with our Total Security Suite.
Latest generation multi-core processors provide the power to run all security scanning engines in parallel without causing performance bottlenecks.
Gain critical insights about network security, from anywhere and at any time, with WatchGuard Cloud.
Built-in compliance reports, including PCI and HIPAA, mean one-click access to the data you need to ensure compliance requirements are met.
Up to 18 Gbps firewall throughput. Turn on all additional security services and still see up to 2.4 Gbps throughput.
---
Pricing Notes:
Pricing and product availability subject to change without notice.
WatchGuard Products
WatchGuard Firebox M290 with Basic Security Suite
Back to top
Includes: Basic Security Suites include Appliance, Standard Support (24x7), Application Control, WebBlocker, spamBlocker, Gateway Antivirus, Intrusion Prevention Service, Reputation Enabled Defense, and Network Discovery
WatchGuard Firebox M290 with 1-yr Basic Security Suite
#WGM29000701
List Price:
$2,675.00
Our Price: $2,086.50
WatchGuard Firebox M290 with 3-yr Basic Security Suite
#WGM29000703
List Price:
$4,290.00
Our Price: $3,346.20
WatchGuard Firebox M290 with Total Security Suite
Back to top
Includes: Total Security Suites include Appliance, Gold Support, Basic Security Suite, APT Blocker, Data Loss Prevention, Dimension Command, Access Portal, DNSWatch, IntelligentAV, Cloud, and Threat Detection & Response
WatchGuard Firebox M290 with 1-yr Total Security Suite
#WGM29000801
List Price:
$3,760.00
Our Price: $2,932.80
WatchGuard Firebox M290 with 3-yr Total Security Suite
#WGM29000803
List Price:
$6,865.00
Our Price: $5,354.70
WatchGuard Firebox M290 with Standard Support
Back to top
Includes: Appliances with Support only (includes Support (24x7), VPN & Networking, Dimension Command, and Access Portal)
WatchGuard Firebox M290 with 1-yr Standard Support
#WGM29000601
List Price:
$2,200.00
Our Price: $1,716.00
WatchGuard Firebox M290 with 3-yr Standard Support
#WGM29000603
List Price:
$2,785.00
Our Price: $2,172.30
WatchGuard Firebox M290 High Availability with Standard Support
Back to top
High Availability Appliances (Must be activated on an account with a non HA appliance of the same model)
WatchGuard Firebox M290 High Availability with 1-yr Standard Support
#WGM29001601
List Price:
$1,100.00
Our Price: $858.00
WatchGuard Firebox M290 High Availability with 3-yr Standard Support
#WGM29001603
List Price:
$1,685.00
Our Price: $1,314.30
WatchGuard Firebox M290 Trade Up Program - Basic Security Suite
Back to top
Trade up to WatchGuard Firebox M290 with 3-yr Basic Security Suite
#WGM29002003
List Price:
$3,740.00
Our Price: $2,917.20
WatchGuard Firebox M290 Trade Up Program - Total Security Suite
Back to top
Trade up to WatchGuard Firebox M290 with 1-yr Total Security Suite
#WGM29002101
List Price:
$3,210.00
Our Price: $2,503.80
#WGM29002103
List Price: $6,300.00
Our Price: $4,914.00
Special Price: $4,479.00
WatchGuard Basic Security Software Suite Renewal/Upgrade
Back to top
Basic Security Suites include Appliance, Standard Support (24x7), Application Control, WebBlocker, spamBlocker, Gateway Antivirus, Intrusion Prevention Service, Reputation Enabled Defense, and Network Discovery
WatchGuard Basic Security Suite Renewal/Upgrade 1-yr for Firebox M290
#WGM29040201
Our Price: $1,150.00
WatchGuard Basic Security Suite Renewal/Upgrade 3-yr for Firebox M290
#WGM29040203
Our Price: $2,760.00
WatchGuard Total Security Software Suite Renewal/Upgrade
Back to top
Total Security Software Suites include Gold Support, Basic Security Suite, APT Blocker, Data Loss Prevention, Dimension Command, Access Portal, DNSWatch, IntelligentAV, Cloud, and Threat Detection & Response
WatchGuard Total Security Suite Renewal/Upgrade 1-yr for Firebox M290
#WGM29040301
Our Price: $2,210.00
WatchGuard Total Security Suite Renewal/Upgrade 3-yr for Firebox M290
#WGM29040303
Our Price: $5,300.00
WatchGuard APT Blocker 1-yr for Firebox M290
#WGM29020801
Our Price: $595.00
WatchGuard APT Blocker 3-yr for Firebox M290
#WGM29020803
Our Price: $1,435.00
WatchGuard Cloud Data Retention for Firebox M290
Back to top
WatchGuard Cloud 1-month data retention for M290 - 1-yr
#WGM29021801
Our Price: $465.00
WatchGuard Cloud 1-month data retention for M290 - 3-yr
#WGM29021803
Our Price: $1,395.00
WatchGuard Gold Support Renewal/Upgrade 1-yr for Firebox M290�
#WGM29040701
Our Price: $600.00
WatchGuard Gold Support Renewal/Upgrade 3-yr for Firebox M290
#WGM29040703
Our Price: $1,440.00
WatchGuard Standard Support Renewal 1-yr for Firebox M290
#WGM29040101
Our Price: $415.00
WatchGuard Standard Support Renewal 3-yr for Firebox M290
#WGM29040103
Our Price: $1,005.00
WatchGuard Firebox M290 1-yr Premium 4hr Replacement
#WGM29041301
Our Price: $295.00
WatchGuard Firebox M290 3-yr Premium 4hr Replacement
#WGM29041303
Our Price: $705.00
WatchGuard Firebox M 3rd Gen 8 x 1 Gb Copper Module
#WG9022
List Price:
$800.00
Our Price: $624.00
WatchGuard Firebox M 3rd Gen Multispeed PoE+ Module
#WG9021
List Price:
$1,895.00
Our Price: $1,478.10
WatchGuard Firebox M 3rd Gen 2 x 10Gb SFP+ Fiber Module
#WG9020
List Price:
$995.00
Our Price: $776.10
WatchGuard Firebox M 3rd Gen 4 x 1Gb SFP Fiber Module
#WG9019
List Price:
$650.00
Our Price: $507.00
WatchGuard Firebox M 3rd Gen 4 x 1Gb Copper Module
#WG9018
List Price:
$650.00
Our Price: $507.00
Transceiver 10Gb Short-Range SFP+ for WatchGuard Firebox M
#WG8583
Our Price: $350.00
Transceiver 1Gb Short-Range SFP for Firebox M
#WG8585
Our Price: $120.00
Firebox Rack Rails Kit
Rack Rails Kit for: WatchGuard Firebox M5600/M270/M370/M470/M570/M670
#WG8596
Our Price: $125.00