WatchGuard AP125

802.11ac wave 2, Dual Radio, 2x2, Indoor, Internal antenna, Cloud ready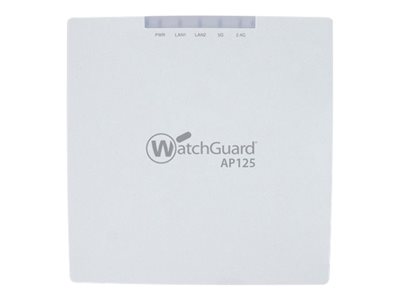 Sorry, this unit has been discontinued and is no longer available for purchase, replace by WatchGuard AP130. End of Sale (EOS): 01 Dec 2019. End of Life (EOL) for the WatchGuard AP125 is 01 March 2025 - you will not be able receive support after this date even with a 1 Year contract.
Sorry, this product is no longer available, please contact us for a replacement.
Overview:
Great Wi-Fi security comes in affordable, small packages. The AP125 from WatchGuard is exactly what you've been looking for – a small and affordable indoor access point that comes equipped with 2x2 802.11ac Wave 2 Multi-User MIMO (MU-MIMO). This access point also offers dual concurrent 5 GHz and 2.4 GHz band radios, and data rates of up to 867 Mbps and 300 Mbps, respectively. Common use cases include lower-density environments such as small schools, distributed remote offices, and small meeting rooms.
Uniquely Effective Approach to Security
The AP125 supports the only Wireless Intrusion Prevention System (WIPS) in the industry with high accuracy in classifying access points and client devices, properly enabling automatic prevention of Wi-Fi threats and keeping a network protected from wireless man-in-the middle attacks, evil twins, honeypots, and more.
Flexible Management Options
You can manage the AP125 with either a Firebox, via the Gateway Wireless Controller and receive a lightweight feature set, or with WatchGuard's Wi-Fi Cloud. With the Wi-Fi Cloud you get an expanded set of features including patented security, marketing tools, and location-based analytics for optimal business insights. IT pros can also enjoy an entirely controller-less Wi-Fi management experience including setup, con-figuration, monitoring, troubleshooting, and improved corporate and guest Wi-Fi access, without worrying about the limitations of legacy controller infrastructure. Wi-Fi Cloud en-vironments easily scale from one to an unlimited number of access points across multiple locations. Access points can be grouped in many ways including location, building, floor, and customer to maintain consistent policies.
Performance Without Compromise
By incorporating the latest 802.11ac Wave 2 standards, you'll have speeds of up to 867 Mbps over the air, without sacrificing security. With MU-MIMO, you get faster user experience, serving multiple devices (smartphones, tablets, laptops) at the same time, so more clients can utilize the network more efficiently.
Features & Benefits
Wave 2 chipset offers the latest MU-MIMO technology to provide optimal airtime efficiency
Measuring under 6 inches (148mm) square, this small access point packs a real punch
AP125 takes less than two minutes to activate and configure after connecting to the Wi-Fi Cloud
Support for up to eight individual SSIDs per radio allows for maximum flexibility in network design
Smart steering automatically pushes clients with low speeds to a closer access point*
Band steering manages spectrum efficiency, pushing clients to 5 GHz channels for optimal throughput
AP125 continues to scan for wire-less threats and enforces security policy even if the connection with the Wi-Fi Cloud is interrupted*
*Must have Wi-Fi Cloud enabled with Secure Wi-Fi or Total Wi-Fi license.