WatchGuard AP125

802.11ac wave 2, Dual Radio, 2x2, Indoor, Internal antenna, Cloud ready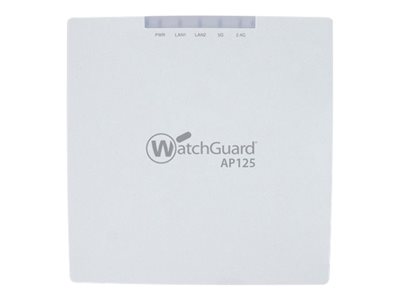 WatchGuard Wireless
WatchGuard AP125 and Basic Wi-Fi
Basic Wi-Fi Package includes AP with subscription to manage that AP with a Gateway Wireless Controller and Standard Support

WatchGuard AP125 and 1-yr Basic Wi-Fi 
#WGA15701
List Price:
$355.00
Our Price: $276.90

WatchGuard AP125 and 3-yr Basic Wi-Fi 
#WGA15703
List Price:
$440.00
Our Price: $343.20
WatchGuard AP125 and Secure Wi-Fi
Secure Wi-Fi Package includes AP with subscription to manage that AP in Wi-Fi Cloud, Standard Support, and WIPS

WatchGuard AP125 and 1-yr Secure Wi-Fi 
#WGA15731
List Price:
$455.00
Our Price: $354.90

WatchGuard AP125 and 3-yr Secure Wi-Fi 
#WGA15733
List Price:
$575.00
Our Price: $448.50
WatchGuard AP125 and Total Wi-Fi
Total Wi-Fi Package includes AP with subscription to manage that AP in Wi-Fi Cloud, Standard Support, WIPS, Engage Captive Portals, Analyze Location Analytics, and Go Mobile Web App

WatchGuard AP125 and 1-yr Total Wi-Fi 
#WGA15721
List Price:
$520.00
Our Price: $405.60

WatchGuard AP125 and 3-yr Total Wi-Fi 
#WGA15723
List Price:
$705.00
Our Price: $549.90
More pricing below, click here!
Overview:
Great Wi-Fi security comes in affordable, small packages. The AP125 from WatchGuard is exactly what you've been looking for – a small and affordable indoor access point that comes equipped with 2x2 802.11ac Wave 2 Multi-User MIMO (MU-MIMO). This access point also offers dual concurrent 5 GHz and 2.4 GHz band radios, and data rates of up to 867 Mbps and 300 Mbps, respectively. Common use cases include lower-density environments such as small schools, distributed remote offices, and small meeting rooms.
Uniquely Effective Approach to Security
The AP125 supports the only Wireless Intrusion Prevention System (WIPS) in the industry with high accuracy in classifying access points and client devices, properly enabling automatic prevention of Wi-Fi threats and keeping a network protected from wireless man-in-the middle attacks, evil twins, honeypots, and more.
Flexible Management Options
You can manage the AP125 with either a Firebox, via the Gateway Wireless Controller and receive a lightweight feature set, or with WatchGuard's Wi-Fi Cloud. With the Wi-Fi Cloud you get an expanded set of features including patented security, marketing tools, and location-based analytics for optimal business insights. IT pros can also enjoy an entirely controller-less Wi-Fi management experience including setup, con-figuration, monitoring, troubleshooting, and improved corporate and guest Wi-Fi access, without worrying about the limitations of legacy controller infrastructure. Wi-Fi Cloud en-vironments easily scale from one to an unlimited number of access points across multiple locations. Access points can be grouped in many ways including location, building, floor, and customer to maintain consistent policies.
Performance Without Compromise
By incorporating the latest 802.11ac Wave 2 standards, you'll have speeds of up to 867 Mbps over the air, without sacrificing security. With MU-MIMO, you get faster user experience, serving multiple devices (smartphones, tablets, laptops) at the same time, so more clients can utilize the network more efficiently.
Features & Benefits
Wave 2 chipset offers the latest MU-MIMO technology to provide optimal airtime efficiency
Measuring under 6 inches (148mm) square, this small access point packs a real punch
AP125 takes less than two minutes to activate and configure after connecting to the Wi-Fi Cloud
Support for up to eight individual SSIDs per radio allows for maximum flexibility in network design
Smart steering automatically pushes clients with low speeds to a closer access point*
Band steering manages spectrum efficiency, pushing clients to 5 GHz channels for optimal throughput
AP125 continues to scan for wire-less threats and enforces security policy even if the connection with the Wi-Fi Cloud is interrupted*
*Must have Wi-Fi Cloud enabled with Secure Wi-Fi or Total Wi-Fi license.
Flexible Deployment Options:
WATCHGUARD HAS YOU COVERED, INDOORS AND OUT
No matter what your wireless battleground is – remote offices, guest Wi-Fi, corporate access, public hotspots, outdoor environments – WatchGuard has a range of access points to fit your business needs. WatchGuard's Wi-Fi packages allow you to quickly and easily find the right set of features your business needs today...and tomorrow.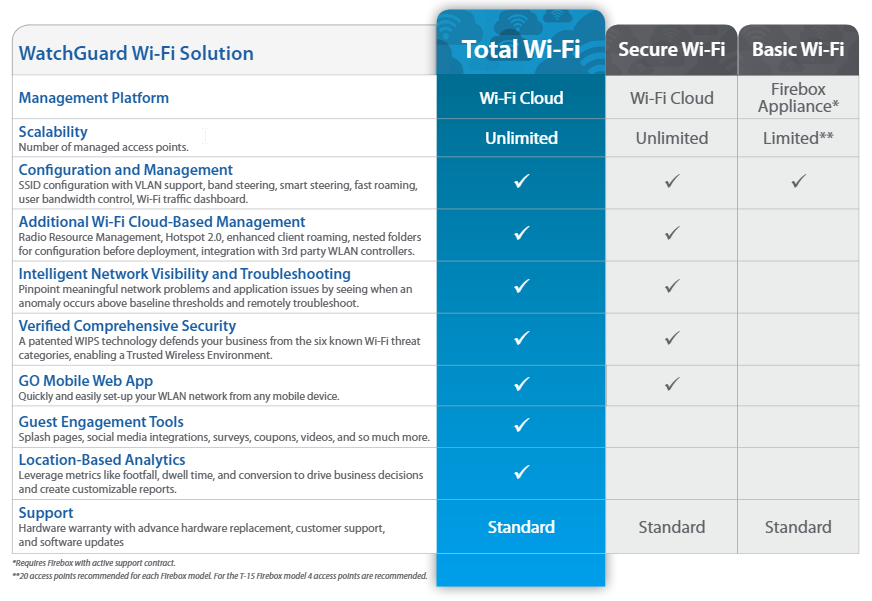 NO NEED TO RIP AND REPLACE, JUST ADD WIPS
Each WatchGuard access point has the flexibility to operate as both an access point and a dedicated WIPS security sensor. This means that when deployed as dedicated WIPS sensors, the devices work with your existing access points (Cisco, Aruba, Ruckus, Ubiquiti, etc) and add enterprise-grade wireless security protection to your network. In this case, instead of deliv-ering secure Wi-Fi traffic to users, we deliver unprecedented WIPS security protection that is 100% dedicated to scanning the air and protecting your business from wireless threats.
Specifications: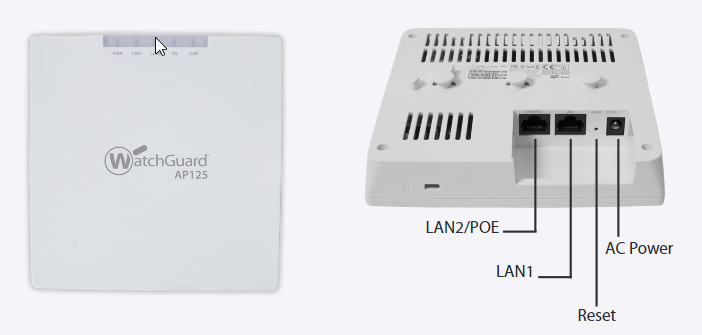 AP125 Specifications
Physical Specifications
Property
Specification
Physical Dimensions
148mm X 148mm X 33mm
Weight
237g (0.522 lb)
Operating Temperature
0° - 45°C (32° - 113°F)
Storage Temperature
-20° - 65°C (-4° - 149°F)
Humidity
5% to 95% non-condensing
Processor RAM
Qualcomm IPQ4028 717 MHz quad-core ARM processor with 256 MB RAM and 64 MB Flash.
| | | | |
| --- | --- | --- | --- |
| Port | Description | Connector Type | Speed/Protocol |
| Power | 12V DC/802.3af (PoE) | 5.5MM overall diameter/2.1mm center pin/hole | N/A |
| Reset | Reset to factory default settings | Pin hole push button | Hold down and power cycle the device to reset |
| LAN1 | Gigabit Ethernet port that can be used for wired extension for an SSID | RJ-45 | 10/100/1000 Mbps Gigabit Ethernet |
| LAN2/PoE | Gigabit Ethernet port used to connect to the wired LAN and communicate with the WatchGuard Wi-Fi Cloud. This port can also be used to power the device using the 802.3af (PoE) standard. | RJ-45 | 10/100/1000 Mbps Gigabit Ethernet 802.3af Class 0 PoEPoE input voltage: 48V |
Operational Specifications
Input Power
12V DC/1.5A (5.5mm overall diameter/2.1 center pin/hole)/802.3af (PoE)
Number of Radios
2 radios; One 2.4GHz and 5GHz radio each for simultaneous dual band client access.
Max Clients Supported
512 clients per radio *dependent upon cases
MIMO
2x2 for 2.4/5GHz Radios
Number of Spatial Streams
2 for 2.4/5GHz Radios
RF Transmit Power
20 dBm per radio chain (max); Actual power for Tx will depend on Country Regulatory Doman
Simultaneous MU-MIMO Clients
Two 1x1 MU-MIMO clients
Users in a MU-MIMO group with a 2x2 client
1
Bandwidth Agility
Yes
Frequency Bands
2.4-2.4835 GHz, 4.9-5.0GHz, 5.15-5.25 GHz; (UNII-1), 5.25-5.35 GHz, 5.47-5.6 GHz,5.650-5.725 GHz (UNII-2), 5.725-5.85 GHz (UNII-3)
Dynamic Frequency Selection
Supported in compliance to all latest amendments from FCC, CE, IC, CB, TELEC, KCCregarding certifications.
Wi-Fi Specifications – Frequency, Modulation, and Data Rates
IEEE 802.11b/g/n
Frequency Band
Scanning
Transmission
All regions
USA & Canada
(FCC/IC)
Europe
(ETSI)
2400 ~ 2483.5 MHz
2400 ~ 2473.5 MHz
2400 ~ 2483.5 MHz
Modulation Type
DSSS, OFDM
Peak Data Rates
Up to 300 Mbps (MCS 0-15)
Antenna
Integrated modular high efficiency PIFA antenna x4 (x2 per band)
IEEE 802.11a/n/ac
Frequency Band
Scanning
Transmission
All regions
USA & Canada
(FCC/IC)
Europe
(ETSI)
4.92 ~ 5.08 GHz
5.15 ~ 5.25 GHz
5.25 ~ 5.35 GHz
5.47~ 5.725 GHz
5.725~ 5.825 GHz
5.15 ~ 5.25 GHz
5.25 ~ 5.35 GHz
5.725~ 5.825 GHz
5.15 ~ 5.25 GHz
5.25 ~ 5.35 GHz
5.47~ 5.725 GHz
Dynamic Frequency Selection
DFS and DFS2
Modulation Type
OFDM
Peak Data Rates
Up to 867 Mbps (MCS 0-15)
Antenna
Integrated modular high efficiency PIFA antenna x4 (x2 per band)
Maximum Transmit Power For 2.4GHz
802.11b
1Mbps: 20 dBm
11Mbps: 21 dBm
802.11g
6Mbps: 21 dBm
54Mbps: 18 dBm
802.11n HT20
MCS 0: 20 dBm
MCS 7: 18 dBm
802.11n HT40
MCS 0: 20 dBm
MCS 7: 18 dBm
Maximum Transmit Power For 5GHz
802.11a
6Mbps: 21 dBm
54Mbps: 19 dBm
802.11n HT20
MCS: 21 dBm
MCS 7: 19 dBm
802.11n HT40
MCS 0: 20 dBm
MCS 7: 18 dBm
802.11n VHT80
MCS 0: 20 dBm
MCS 7: 18 dBm
MCS 8: 17 dBm
MCS 9: 16 dBm
Receive Sensitivity For 2.4GHz
802.11g
6 Mbps: -95 dBm
54 Mbps: -77 dBm
54 Mbps: -72 dBm
802.11n HT20
MCS 0: -94 dBm
MCS 7: -74 dBm
802.11n HT40
MCS 0: -92 dBm
MCS 7: -71 dBm
Receive Sensitivity For 5GHz
802.11a
6 Mbps: -93 dBm
54 Mbps: -76 dBm
802.11n HT20
MCS 0: -93 dBm
MCS 7: -73 dBm
802.11n HT40
MCS 0: -89 dBm
MCS 7: -71 dBm
802.11ac HT20
MCS 8: -68 dBm
802.11ac HT20
MCS 9: -64 dBm
802.11ac HT80
MCS 9: -61 dBm
Internal Antenna Radiation Patterns
2.4GHz Antenna

5GHz Antenna

Product Views:
Back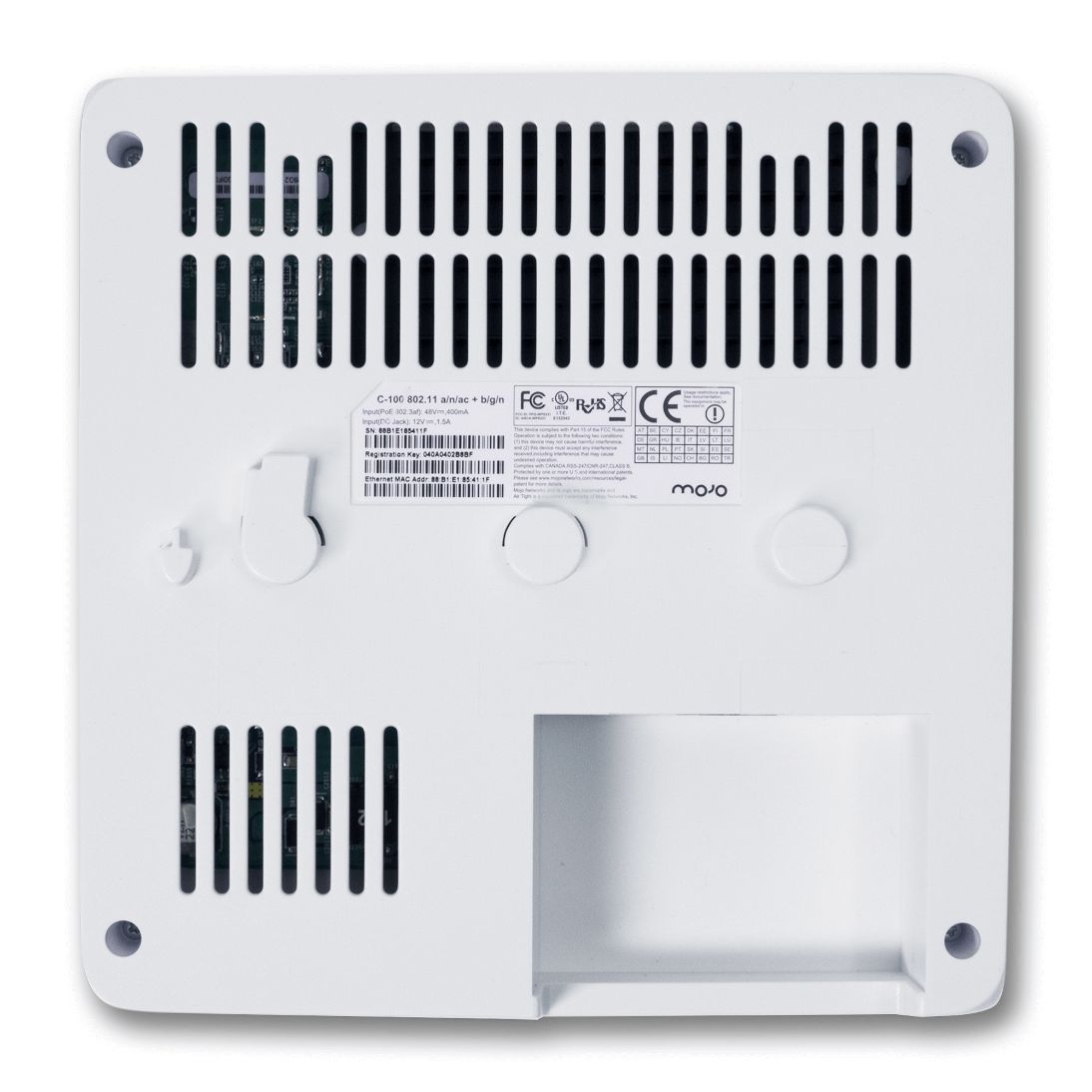 Bottom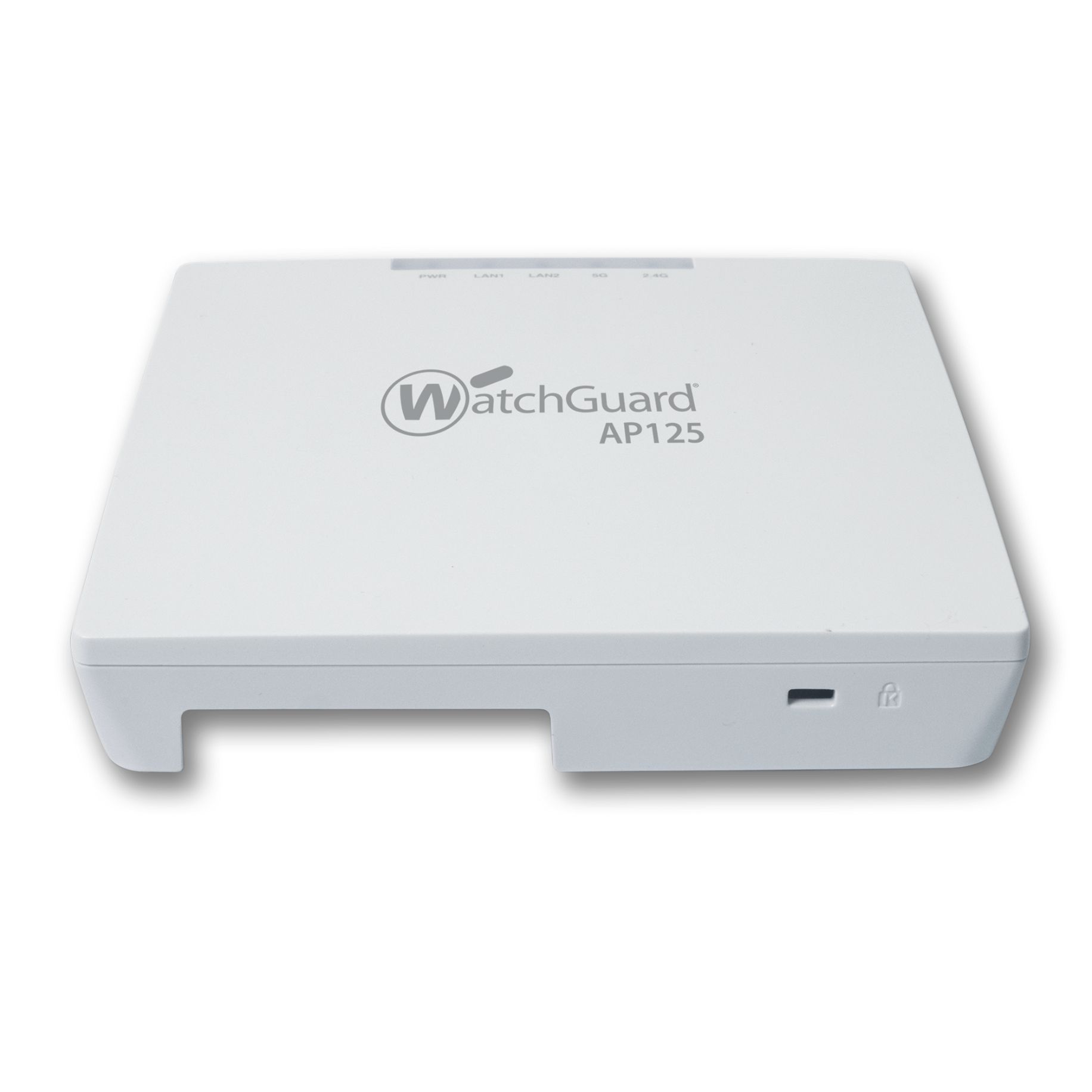 Front
Ports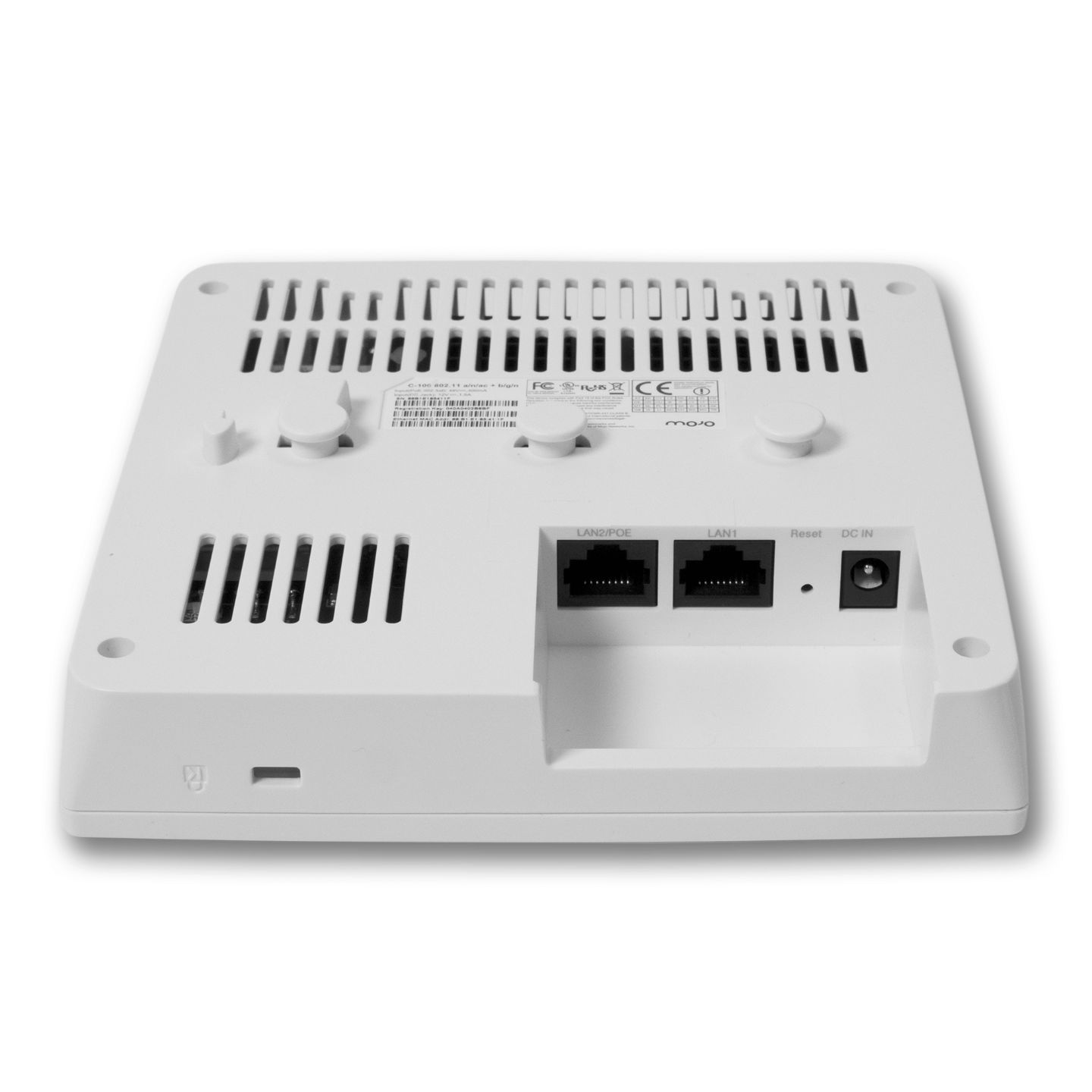 Top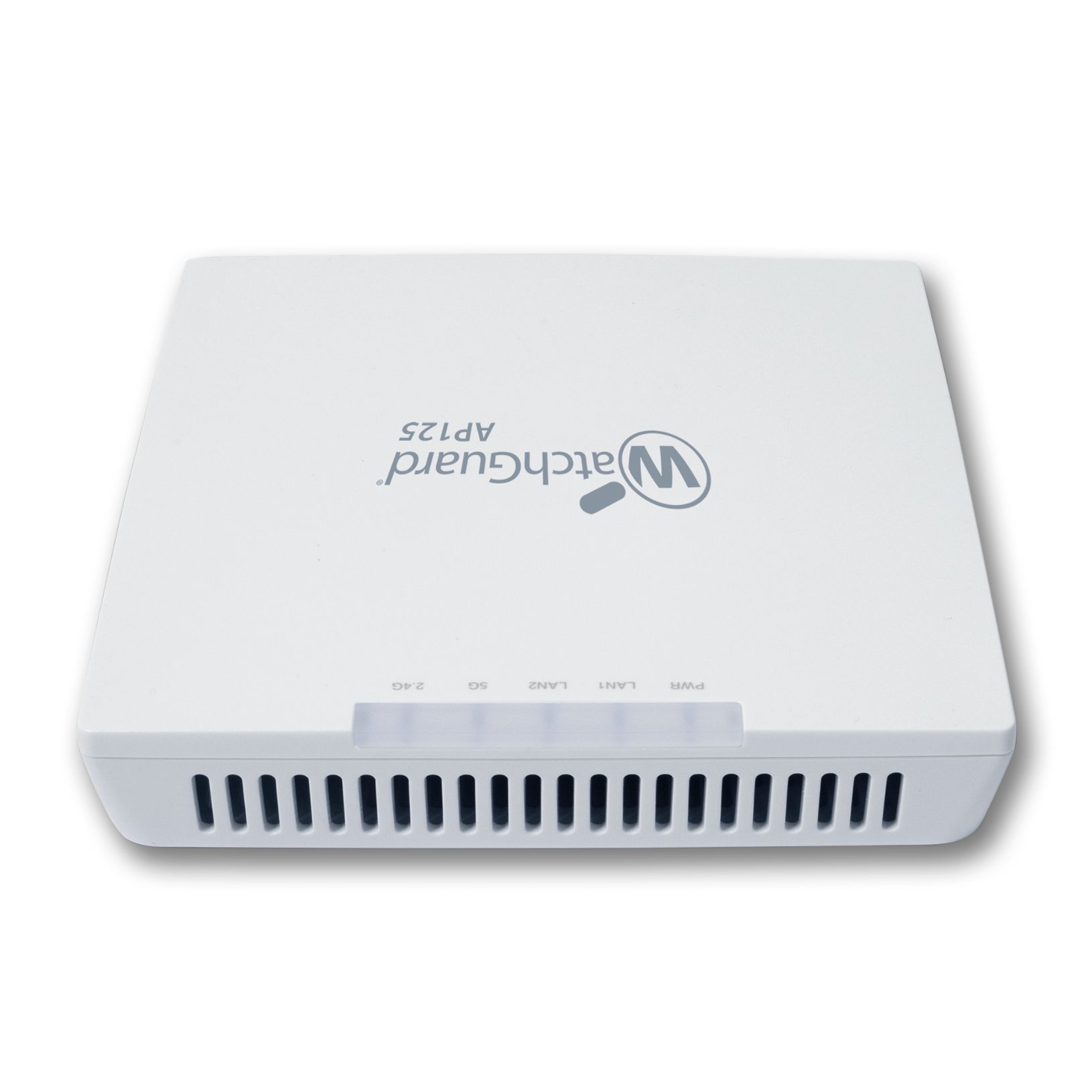 Video: