WatchGuard AP327X

IP67 Outdoor, 4 N-Type Connectors, Dual Radio, 2x2 MU-MIMO, Cloud Ready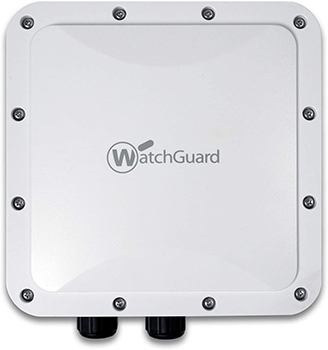 Sorry, this unit has been discontinued and is no longer available for purchase, replace by WatchGuard AP430CR.
WatchGuard AP327X Overview:
Today more than ever, people expect Wi-Fi access no matter where they are – outside, camping, even in walk-in freezers. This IP67-rated access point (AP) comes equipped with four N-Type connectors to support a variety of external antennas. Whether your project requires 360-degree coverage, narrow-beam directional, or longer distance point-to-point, the AP327X protects your Wi-Fi network in the harshest environments.
The AP327X extends your Trusted Wireless Environment to ideal locations such as school campuses, warehouses, manufacturing facilities, shopping malls, public hotspots, municipal Wi-Fi, and other outdoor or harsh weather deployments. Unlock the full potential of the AP327X when managed by the Wi-Fi Cloud for Wireless Intrusion Prevention System (WIPS) security, intelligent network visibility and troubleshooting of wired and wireless issues, location-based analytics, guest engagement and marketing tools.
The AP327X offers four N-Type connectors for flexible antenna pattern coverage capabilities to secure Cloud-managed outdoor Wi-Fi! Its IP67-rated enclosure is made for the harshest environments and extends your Trusted Wireless Environment to the outdoors. This access point with dual concurrent 5 GHz and 2.4 GHz band radios and data rates up to 867 GHz and 400 Mbps respectively delivers broad, fast, and reliable Wi-Fi coverage – making the AP327X ideal for school campuses, warehouses, manufacturing yards, malls, public hotspots, and other municipal Wi-Fi deployments.


Ruggedized Enclosure
The AP327X is IP67-compliant and tested to withstand the harshest weather conditions, so it can be mounted with direct exposure to the elements – no overhang or shelter required. This AP is capable of operating in temperatures -40°C to 65°C (-40°F to 149°F).
---
Dual-Band Omni Antennas
Omni-directional (360 degree) coverage is ideal for installations where the AP327X is centrally located and client devices require connectivity in all directions such as school recreation areas, outdoor pools, manufacturing buildings, and public hotspots. Designed to be used with the AP327X outdoor access point and suitable for any access point that supports N-Type connectors. Sold separately in sets of 2.

---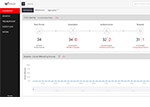 Cloud-Based Network Baselining and Troubleshooting
"Why is the Wi-Fi not working?" If this comment sounds all too familiar, you're not alone. Whenever a user experiences a problem, they will often blame Wi-Fi. IT admins need access to better answers. The Wi-Fi Cloud provides real-time insight into the users' experience and tracks why clients may fail to connect to the network. Wi-Fi Cloud baselines network traffic and automatically highlights anomalies by triggering alerts to network admins for resolving issues before users report them.
---
Join the Trusted Wireless Environment Movement
With the importance of Wi-Fi to all of our lives, every person in this world deserves to connect to a Wi-Fi they can trust. The only way to accomplish this is to establish a security standard for Wi-Fi.
---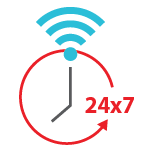 24x7 Expert Wi-Fi Support Included
WatchGuard understands just how important support is when you are trying to manage and secure your Wi-Fi network with limited resources. Sometimes you require additional knowledge and assistance in a fast-changing technology world where mobility is becoming ever more critical and complex, and downtime can spell disaster. Automatically included with the purchase of any access point and management package, is 24x7 support with 4 hours target response time for high severity issues, advanced RMA replacement, and software updates. With over 20 Certified Wireless Network Professionals (CWNP), WatchGuard support team gives you the backup you need from the moment you activate your WatchGuard AP.