WatchGuard Firebox T70

WatchGuard Firebox T70 - Up to 550 Mbps UTM full scan, 1300 Mbps Firewall IMIX, 220 Mbps VPN IMIX, 8 Gb Ethernet interfaces, incl. 2 PoE+

Sorry, this unit has been discontinued and is no longer available for purchase, replace by Firebox T80. If you currently own this Model, please click here to participate in the WatchGuard Trade-Up Program! You can also purchase available renewals below. You can also purchase available renewals below. End of Sale (EOS): 30 Sep 2021. End of Life (EOL) for the Firebox-T80 is 31 Dec 2025 - you will not be able receive support after this date even with a 1 Year contract.
Sorry, this product is no longer available, please contact us for a replacement.
More pricing below, click here!
Overview:
Firewall throughput of up to 4 Gbps to keep traffic moving
Industry-leading UTM throughput speed of over 1 Gbps
Built-in management and visibility console provides high-level and granular views into all network activity for quick preventive or remedial action
Intel AES-NI instruction set provides users with accelerated HTTPS performance, which is critical in protecting against all types of malware
WatchGuard's comprehensive portfolio of network security services boosts protection in critical attack areas
Your security investment is future- proofed, with the only appliance available today that can keep up with the continuously expanding speeds of fiber broadband
Many organizations today are dependent on fast, reliable and secure Internet connectivity, but are struggling to find network security solutions that can keep up with their ever-growing needs. While many rack-mount solutions can keep up with today's fastest fiber-to-the-premises speeds, there are not currently any tabletop security appliances available that have this capability, especially when running with Gateway Antivirus, Intrusion Prevention, and Application Control all enabled. With the release of the WatchGuard Firebox T70, SMBs and distributed enterprise organizations can now leverage today's lightning fast fiber Internet speeds while enjoying industry-leading network security.
"Overall, the WatchGuard Firebox T70 exhibited the best overall throughput performance of the competitive security appliances tested. In addition, while competitors' performance was greatly reduced as more security functions and features were enabled, the WatchGuard Firebox T70's continued to prove exceptional performance." ~ Miercom CEO Rob Smithers
Industry-leading UTM Performance
WatchGuard's newest hardware appliance sets the standard for tabletop performance, boasting the highest performance levels across the most critical benchmarks. The WatchGuard Firebox T70 will make network slowdown concerns a thing of the past, with blazing-fast performance capable of delivering full UTM protection at over 1 gigabit per second.
Power For Peripheral Devices
The WatchGuard Firebox T70 is the only tabletop appliance available on the market today that provides users with two power-over-Ethernet (PoE) ports. These ports enable the charging of peripheral devices, such as access points and security cameras, allowing administrators to extend the reach of their networks without having to run costly AC power to remote devices.
Quick And Simple Deployment
WatchGuard RapidDeploy takes the guess work out of the firewall deployment process. The innovative, cloud-based configuration capabilities allow WatchGuard firewall and UTM solutions to securely configure themselves. Rather than manually provisioning the device in advance, IT staff can create and store configuration data in the cloud – public or private – and have the appliance directly shipped to its destination.
Once the device is on location and connected to the Internet, it effectively deploys itself for a secure download of its configuration settings. This advantage provides time and cost savings to growing businesses such as distributed enterprises and managed service providers.
Compare Models:
WatchGuard® Model
WatchGuard® Firebox T55/T55-W
WatchGuard® Firebox T70
WatchGuard Firebox® M270
Ideal For
Small business, distributed enterprises, and MSSPs that need a powerful solution that can be quickly deployed in remote locations and centrally managed.
Midsize businesses and distributed enterprises
Small to midsize businesses
Hardware
Model Upgradeable
N/A
N/A
N/A
Interfaces
5 Gb
8 Gb
8 Gb
Security
Application Proxies
HTTP, HTTPS, SMTP, FTP, DNS, TCP-UDP, POP3, SIP, H.323
HTTP, HTTPS, SMTP, FTP, DNS, TCP-UDP, POP3, SIP, H.323
HTTP, HTTPS, SMTP, FTP, DNS, TCP-UDP, POP3, SIP, H.323
Intrusion Prevention (DOS, DDOS, PAD, port scanning, spoofing attacks, address space probes, and more)
Wireless Models
802.11a/b/g/n/ac, WPA, WPA2, WEP, Wireless Guest Services
N/A
N/A
User Authentication with transparent Windows authentication
Performance
Firewall Throughput
1 Gbps
4 Gbps
4.9 Gbps
VPN Throughput
360 Mbps
740 Mbps
1.6 Gbps
AV Throughput
636 Mbps
1.2 Gbps
2.1 Gbps
IPS Throughput
636 Mbps
1.5 Gbps
2.3 Gbps
UTM Throughput
523 Mbps
1.1 Gbps
1.6 Gbps
Concurrent Sessions*
1,300,000
800,000
2,000,000
VPN Tunnels
Branch Office VPN Tunnels
40
50
50
Mobile VPN with SSL/L2TP
50
60
75
Mobile VPN with IPSec
50
60
75
Management
Optional Centralized (Multibox) Management. Optional licenses enable Drag and Drop VPN and one-touch appliance updates.
WatchGuard System Manager Device Upgrade license required.
4-device WatchGuard System Manager license included with purchase
4-device WatchGuard System Manager license included with purchase
Networking Features
Dynamic NAT
Static NAT
One to One NAT
VLAN
75
75
100
Policy-Based Routing
WAN Failover
Multi-WAN Load Balancing
Server Load Balancing
Traffic Management/QoS
High Availability Active/Active or Active/Passive
Dynamic Routing
VoIP (SIP and H.323) Support
Additional Security Subscriptions
Support and Maintenance Program
1-year and 3-year subscriptions available
24x7 Support included with Security Suite
24x7 Support included with Security Suite
Access Portal
N/A
N/A
Optional
Application Control
Optional
Optional
Optional
APT Blocker
Optional
Optional
Optional
Data Loss Prevention
Optional
Optional
Optional
DNSWatch
Optional
Optional
Optional
Gateway AntiVirus
Optional
Optional
Optional
IntelligentAV
N/A
N/A
Optional
Intrusion Prevention Service (IPS)
Optional
Optional
Optional
Network Discovery
Optional
Optional
Optional
Reputation Enabled Defense
Optional
Optional
Optional
spamBlocker with Virus Outbreak Detection
Optional
Optional
Optional
Threat Detection and Response
Optional
Optional
Optional
WebBlocker with HTTPS URL filtering
Optional
Optional
Optional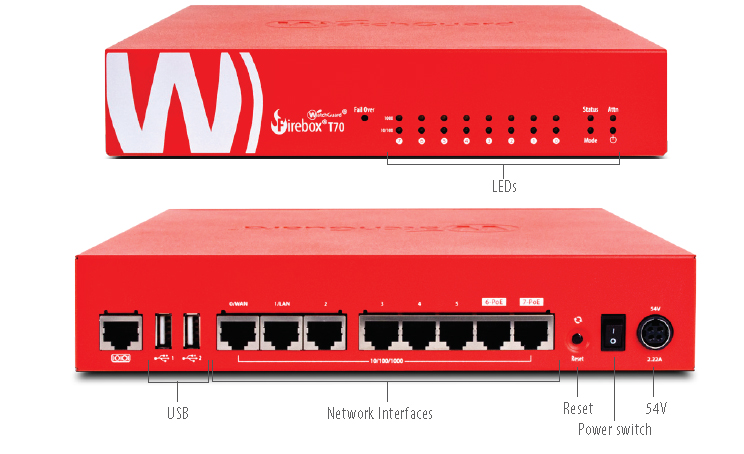 Strong Security At Every Layer
Uniquely architected to be the industry's smartest, fastest, and most effective network security products, WatchGuard solutions deliver in-depth defenses against advanced malware, ransomware, botnets, trojans, viruses, drive-by downloads, data loss, phishing and much more.
Multiple Purchase Options
The flexibility of WatchGuard's integrated platform makes it easy to have exactly the security components your business network requires. Talk to your authorized WatchGuard reseller about very affordable bundled subscriptions for the Firebox T70.
Expert Guidance And Support
An initial Support subscription comes with every Firebox T70 appliance. Standard Support, which is included in the Basic Security Suite, provides hardware warranty with advance hardware replacement, 24 x 7 technical support, and software updates. An upgrade to Gold level support is included in WatchGuard's Total Security Suite.
*Concurrent sessions here represent the number of bi-directional connections.
Throughput rates are determined using multiple flows through multiple ports and will vary depending on environment and configuration. Max firewall throughput tested using 1518 byte UDP packets based on RFC 2544 methodology.
Options & Upgrades:
WatchGuard Security Services
WatchGuard offers the most comprehensive portfolio of network security services, from traditional IPS, GAV, application control, spam blocking, and web filtering to more advanced services for protecting against advanced malware, ransomware, and the loss of sensitive data. WatchGuard also offers a full suite of network visibility and management services.
Fundamental Security Services
Advanced Security Services

APT Blocker - Advanced Malware Protection
APT Blocker uses an awardwinning next-gen sandbox to detect and stop the most sophisticated attacks including ransomware, zero day threats and other advanced malware.

Data Loss Prevention
This service prevents accidental or malicious data loss by scanning text and common file types to detect sensitive information attempting to leave the network.

Access Portal
Access Portal provides central location for access to cloud-hosted applications, and secure, clientless access to internal resources with RDP and SSH.

Threat Detection and Response
Correlate network and endpoint security events with enterprise-grade threat intelligence to detect, prioritize and enable immediate action to stop malware attacks. Improve visibility by evolving your existing security model to extend past prevention, to now include correlation, detection and response.

DNSWatch
Reduce malware infections by detecting and blocking malicious DNS requests, redirecting users to a safe page with information to reinforce security best practices.

Dimension Command
Dimension translates data collected from all appliances across your network into actionable network and threat intelligence. Dimension Command gives you the power to take action to mitigate those threats instantly, from one central console.
One Appliance, One Package, Total Security
Simplicity is our mission at WatchGuard and that mission extends beyond how the product is built to how it is packaged. While all of our services are offered à la carte, we have worked to develop two packages that simplify the decision-making process. The Total and Basic Security Suite packages are available on our Firebox T and M Series appliances, as well as our Firebox Cloud and FireboxV virtual models.
The Basic Security Suite includes all of the traditional network security services typical to a UTM appliance: IPS, GAV, URL filtering, application control, spam blocking and reputation lookup. It also includes our centralized management and network visibility capabilities, as well as, our standard 24x7 support.
The Total Security Suite includes all services offered with the Basic Security Suite plus advanced malware protection, data loss protection, enhanced network visibility capabilities, a secure access portal, and the ability to take action against threats right from Dimension, our network visibility platform.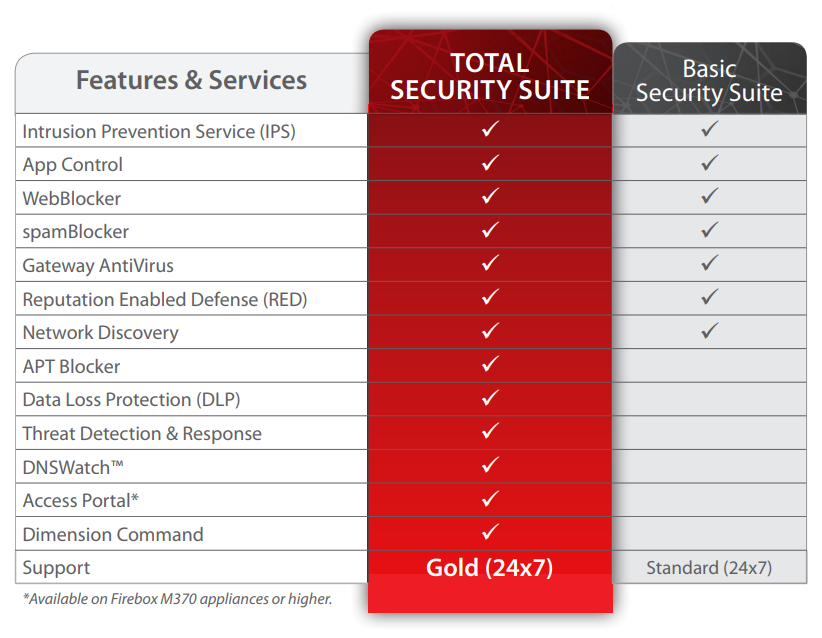 Rackmount:
RM-WG-T4
List Price: $149.00
Our Price: $144.00

Rack mount kit for:
- WatchGuard Firebox T70
The RM-WG-T4 gives you the ability to mount your WatchGuard Firebox T70 in a 19" rack. The kit is tailored specifically for the listed models to guarantee a perfect fit. In addition, the connections are brought to the front for easy access.
Assembly will take about 5 minutes. Simply slide your WatchGuard device in the kit, place the retainers and connect the supplied cables to the keystones.
Other colors can be delivered on project basis
Specifications
Color
RAL 9005 Jet Black
Height
1.3U
2U with the supplied front plate
Dimensions
(height x width x depth)
2.32 x 18.98 x 8.54 in.
Number of connections brought to the front
9
Console port to the front
Yes
Cables
9x 0.5m cables
Couplers
9x RJ45 couplers
Supported Models
- WatchGuard Firebox T70
What's in the box
- 1x WG-Rack + RJ45 couplers
- 1x Rackmount.IT front plate
- Cables
- Assembly materials
- Installation guide
EAN
8718868918369
UPC
852754006360
Download the RM-WG-T4 Datasheet (PDF).
Pricing Notes:
Pricing and product availability subject to change without notice.
WatchGuard Products
WatchGuard Total Security Software Suite Renewal/Upgrade
Total Security Software Suites include Gold Support, Basic Security Suite, APT Blocker, Data Loss Prevention, Dimension Command, Access Portal, DNSWatch, and Threat Detection & Response.
WatchGuard Total Security Suite Renewal/Upgrade 1-yr for Firebox T70
#WGT70351
Our Price: $1,960.00
WatchGuard Total Security Suite Renewal/Upgrade 3-yr for Firebox T70
#WGT70353
Our Price: $5,330.00
WatchGuard Basic Security Software Suite Renewal/Upgrade
Basic Security Software Suites include Standard Support (24x7), Application Control, WebBlocker, spamBlocker, Gateway Antivirus, Intrusion Prevention Service, Reputation Enabled Defense, and Network Discovery.
WatchGuard Basic Security Suite Renewal/Upgrade 1-yr for Firebox T70
#WGT70331
Our Price: $965.00
WatchGuard Basic Security Suite Renewal/Upgrade 3-yr for Firebox T70
#WGT70333
Our Price: $2,515.00
WatchGuard Subscription for Firebox T70 Models
WatchGuard APT Blocker 1-yr for Firebox T70
#WGT70171
Our Price: $480.00
WatchGuard APT Blocker 3-yr for Firebox T70
#WGT70173
Our Price: $1,305.00
1 Year WebBlocker for Firebox T70 Models
#WGT70101
Our Price: $435.00
1 Year Gateway AntiVirus for Firebox T70 Models
#WGT70121
Our Price: $435.00
1 Year spamBlocker for Firebox T70 Models
#WGT70111
Our Price: $435.00
1 Year Intrusion Prevention Service for Firebox T70 Models
#WGT70131
Our Price: $435.00
1 Year Reputation Enabled Defense for Firebox T70 Models
#WGT70141
Our Price: $435.00
1 Year Application Control for Firebox T70 Models
#WGT70151
Our Price: $435.00
1 Year Data Loss Prevention for Firebox T70 Models
#WGT70161
Our Price: $210.00
3 Years Data Loss Prevention for Firebox T70 Models
#WGT70163
Our Price: $505.00
1 Year Network Discovery for Firebox T70 Models
#WGT70181
Our Price: $435.00
Standard Support Services
Standard Support includes 24x7 support with unlimited incidents per year, 4 hour critical/high, 8 hour medium, 24 hour low targeted response times, advanced hardware replacement and software updates and patches.
WatchGuard Standard Support Renewal 1-yr for Firebox T70
#WGT70201
Our Price: $315.00
WatchGuard Standard Support Renewal 3-yr for Firebox T70
#WGT70203
Our Price: $825.00
Support Upgrades
WatchGuard Gold Support Renewal/Upgrade 1-yr for Firebox T70
#WGT70261
Our Price: $405.00
WatchGuard Gold Support Renewal/Upgrade 3-yr for Firebox T70
#WGT70263
Our Price: $975.00
Remote Installation Service - Learn More
WatchGuard Remote Installation Service
#WG001101
Our Price: $595.00
WatchGuard Premium 4hr Replacement
1 Year Premium 4hr Replacement for Firebox T70
#WGT70801
Our Price: $250.00
Firebox T70 Series Accessories
Power Adapter for WatchGuard Firebox T70 (US)