WatchGuard AuthPoint Total Identity Security

Uniquely Simple, Powerfully Secure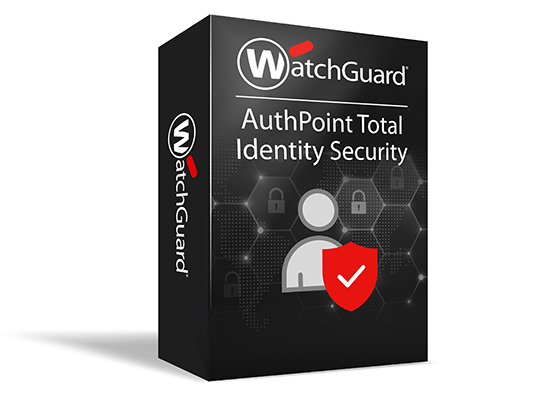 WatchGuard Products
Authpoint Total Identity Security - 1 Year
WatchGuard AuthPoint Total Identity Security includes AuthPoint Mobile App, AuthPoint MFA Service, Dark Web Monitor and Corporate Password Manager
More pricing below, click here!
Overview:
Multi-factor authentication (MFA) is widely regarded as one of the most beneficial security services to protect against current attacks. However, passwords are one of the factors in MFA, and so authentication will remain strongest when we can also protect the password with credentials management services.
AuthPoint Total Identity Security contains all you need for a full MFA solution, including SSO and risk-based authentication, corporate password management, plus the ability to activate monitoring for your domain(s) in case a new database with credentials is found on the dark web. Purchased together in one package, Total Identity Security includes the award-winning AuthPoint MFA solutions and Corporate Manager and Dark Web Monitoring services so you can enforce a strong password policy with the best user experience.
Protect and Comply with MFA
The WatchGuard AuthPoint® MFA service is the answer to the latest expert guidance and corporate/industry mandates with MFA that protects from breaches originating with stolen credentials. With a simple push notification, the AuthPoint mobile app makes each login attempt visible, allowing the user to accept or block access right from their smartphone. Our unique approach adds the mobile phone DNA as an identifying factor to further ensure that only the correct individual is granted access to sensitive networks and Cloud applications.
Get Notified About Credentials on the Dark Web
The Dark Web Monitor is a proactive service that notifies customers when compromised credentials from monitored domains are found in a newly acquired credentials database that's published in our service. Notifications can be sent out to users involved in the breach as well as administrators, so users can proactively change their password. Up to three domains can be monitored with a single license.
Increase Password Security and User Experience
The Corporate Password Manager gives companies more control over password quality, reduces the need for password resets, and mitigates issues related to reused, shared or stolen passwords. Passwords created with a password manager are virtually impossible to crack, but many don't deliver the features that businesses need. With WatchGuard's Corporate Password Manager, when users need to access their apps or systems, they can retrieve their corporate, personal, and shared vault passwords using the AuthPoint app and/or browser extension. This allows organizations to add non-SAML Cloud applications to the Web SSO Portal for stronger authentication and a smooth SSO experience.
Features & Benefits
Monitor credentials from up to three domains per license
Shared password vaults are enabled when needed
Web Single Sign-On (SSO) portal including SAML and non-SAML websites
Online (push) and offline (QR code and OTP) authentication
VPN, Cloud, RDP and PC login protection with risk-based policies included
---
Pricing Notes:
Pricing and product availability subject to change without notice.
WatchGuard Products
Authpoint Total Identity Security - 1 Year
WatchGuard AuthPoint Total Identity Security includes AuthPoint Mobile App, AuthPoint MFA Service, Dark Web Monitor and Corporate Password Manager
Authpoint Total Identity Security - 3 Years
WatchGuard AuthPoint Total Identity Security includes AuthPoint Mobile App, AuthPoint MFA Service, Dark Web Monitor and Corporate Password Manager