WatchGuard Panda Adaptive Defense

Endpoint Detection and Response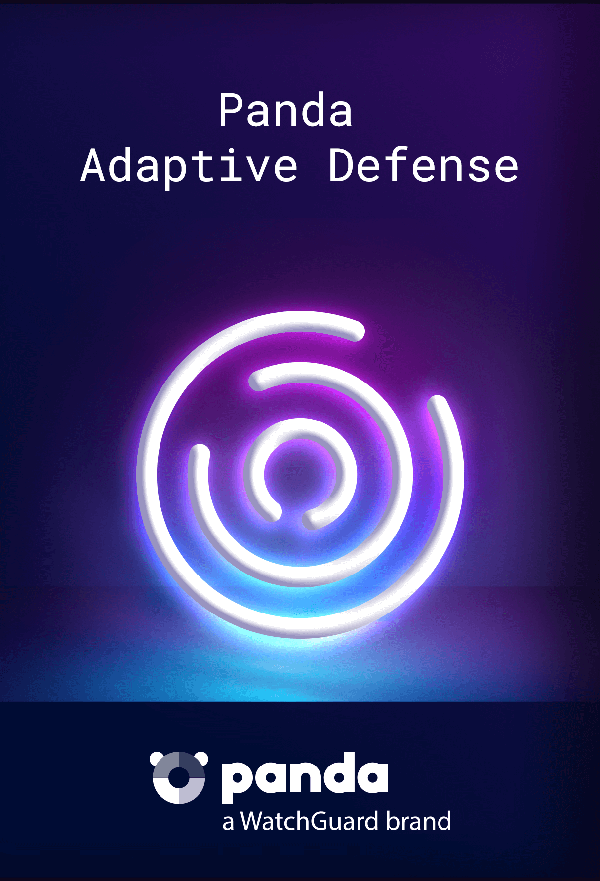 Modules are available: Panda Patch Management, Panda Full Encryption, Panda Adaptive Defense, Panda Adaptive Defense 360
WatchGuard Products
Panda Adaptive Defense - 1 Year
Panda Adaptive Defense - 1 Year - 1 to 50 users
#WGPAD011
Our Price: $53.50
Panda Adaptive Defense - 1 Year - 51 to 100 users
Minimum 51 quantity
#WGPAD021
Our Price: $48.50
Panda Adaptive Defense - 1 Year - 101 to 500 users
Minimum 101 quantity
#WGPAD031
Our Price: $44.50
Panda Adaptive Defense - 1 Year - 501 to 1000 users
Minimum 501 quantity
#WGPAD041
Our Price: $38.50
Panda Adaptive Defense - 1 Year - 1001 to 3000 users
Minimum 1001 quantity
#WGPAD051
Our Price: $31.50
Panda Adaptive Defense - 1 Year - 3001 to 5000 users
Minimum 3001 quantity
#WGPAD061
Our Price: $25.50
Panda Adaptive Defense - 1 Year - 5001 to 10000 users
Minimum 5001 quantity
#WGPAD071
Our Price: $20.50
Panda Adaptive Defense - 1 Year - 10001 to 1000000 users
Minimum 10001 quantity
#WGPAD081
Our Price: $16.00
Panda Adaptive Defense - 3 Years
Panda Adaptive Defense - 3 Year - 1 to 50 users
#WGPAD013
Our Price: $128.50
Panda Adaptive Defense - 3 Year - 51 to 100 users
Minimum 51 quantity
#WGPAD023
Our Price: $117.00
Panda Adaptive Defense - 3 Year - 101 to 500 users
Minimum 101 quantity
#WGPAD033
Our Price: $107.00
Panda Adaptive Defense - 3 Year - 501 to 1000 users
Minimum 501 quantity
#WGPAD043
Our Price: $92.50
Panda Adaptive Defense - 3 Year - 1001 to 3000 users
Minimum 1001quantity
#WGPAD053
Our Price: $75.50
Panda Adaptive Defense - 3 Year - 3001 to 5000 users
Minimum 3001 quantity
#WGPAD063
Our Price: $61.00
Panda Adaptive Defense - 3 Year - 5001 to 10000 users
Minimum 5001 quantity
#WGPAD073
Our Price: $48.50
Panda Adaptive Defense - 3 Year - 10001 to 1000000 users
Minimum 10001 quantity
#WGPAD083
Our Price: $39.00
Click here to jump to more pricing!
Overview:
ORGANIZATIONAL CYBERSECURITY
Mobility, processing, and Cloud storage have all revolutionized the business environment. Workstations are the primary target for most cyber attacks. This is why endpoint security solutions need to be advanced, adaptive, and automatic, with the highest possible levels of prevention and detection.
Organizations receive thousands of weekly malware alerts, of which only 19 percent are considered trustworthy, and only 4 percent of which are ever investigated. Two-thirds of cybersecurity administrators' time is dedicated to managing malware alerts.
SOPHISTICATION OF CYBER ATTACKS
Cyber Defense Against Advanced Threats
State-of-the-art cyber attacks are designed to get around the protection provided by traditional security solutions. These attacks are becoming more frequent and more sophisticated as hackers become more professionalized. It is also a result of a lack of focus on correcting security vulnerabilities in systems.
In light of this scenario, traditional protection platforms are insufficient. This is because they do not provide detailed enough visibility into the processes and applications running on corporate networks.
What's more, some EDR solutions, far from solving anything, create greater stress and increase security administrators' workloads by delegating the responsibility for managing alerts and forcing them to manually classify threats.
PANDA ADAPTIVE DEFENSE
The EDR Solution - Endpoint Detection & Response
Panda Adaptive Defense is an innovative cybersecurity solution for computers, laptops and servers, delivered from the Cloud. It automates the prevention, detection, containment and response to any advanced threat, zero day malware, ransomware, phishing, in-memory exploits, and malwareless attacks, both present and future, inside and outside the corporate network.
Panda Adaptive Defense combines the widest range of automated EDR capabilities. It also has two services, managed by Panda Security experts, which are delivered as a feature of the solution:
Zero-Trust Application Service
Threat Hunting Service
Thanks to its Cloud architecture, its agent is lightweight and has little impact on device performance, which are managed via a single Cloud architecture, even when they are isolated.
Panda Adaptive Defense is accessible from a single web console. It integrates Cloud protection and management platforms (Aether), which maximize prevention, detection and automated response, minimizing the effort required.
Pricing Notes:
Pricing and product availability subject to change without notice.
WatchGuard Products
Panda Adaptive Defense - 1 Year
Panda Adaptive Defense - 1 Year - 1 to 50 users
#WGPAD011
Our Price: $53.50
Panda Adaptive Defense - 1 Year - 51 to 100 users
Minimum 51 quantity
#WGPAD021
Our Price: $48.50
Panda Adaptive Defense - 1 Year - 101 to 500 users
Minimum 101 quantity
#WGPAD031
Our Price: $44.50
Panda Adaptive Defense - 1 Year - 501 to 1000 users
Minimum 501 quantity
#WGPAD041
Our Price: $38.50
Panda Adaptive Defense - 1 Year - 1001 to 3000 users
Minimum 1001 quantity
#WGPAD051
Our Price: $31.50
Panda Adaptive Defense - 1 Year - 3001 to 5000 users
Minimum 3001 quantity
#WGPAD061
Our Price: $25.50
Panda Adaptive Defense - 1 Year - 5001 to 10000 users
Minimum 5001 quantity
#WGPAD071
Our Price: $20.50
Panda Adaptive Defense - 1 Year - 10001 to 1000000 users
Minimum 10001 quantity
#WGPAD081
Our Price: $16.00
Panda Adaptive Defense - 3 Years
Panda Adaptive Defense - 3 Year - 1 to 50 users
#WGPAD013
Our Price: $128.50
Panda Adaptive Defense - 3 Year - 51 to 100 users
Minimum 51 quantity
#WGPAD023
Our Price: $117.00
Panda Adaptive Defense - 3 Year - 101 to 500 users
Minimum 101 quantity
#WGPAD033
Our Price: $107.00
Panda Adaptive Defense - 3 Year - 501 to 1000 users
Minimum 501 quantity
#WGPAD043
Our Price: $92.50
Panda Adaptive Defense - 3 Year - 1001 to 3000 users
Minimum 1001quantity
#WGPAD053
Our Price: $75.50
Panda Adaptive Defense - 3 Year - 3001 to 5000 users
Minimum 3001 quantity
#WGPAD063
Our Price: $61.00
Panda Adaptive Defense - 3 Year - 5001 to 10000 users
Minimum 5001 quantity
#WGPAD073
Our Price: $48.50
Panda Adaptive Defense - 3 Year - 10001 to 1000000 users
Minimum 10001 quantity
#WGPAD083
Our Price: $39.00
WatchGuard Panda Adaptive Defense 360 - 1 to 50 licenses
Panda Adaptive Defense 360 - 1 Year - 1 to 50 licenses
#WGAD3011
Our Price: $69.00
Panda Adaptive Defense 360 - 3 Year - 1 to 50 licenses
#WGAD3013
Our Price: $165.50
WatchGuard Panda Adaptive Defense 360 - 51 to 100 licenses
Panda Adaptive Defense 360 - 1 Year - 51 to 100 licenses
Minimum 51 quantity
#WGAD3021
Our Price: $61.00
Panda Adaptive Defense 360 - 3 Year - 51 to 100 licenses
Minimum 51 quantity
#WGAD3023
Our Price: $146.00
WatchGuard Panda Adaptive Defense 360 - 101 to 500 licenses
Panda Adaptive Defense 360 - 1 Year - 101 to 500 licenses
Minimum 101 quantity
#WGAD3031
Our Price: $53.00
Panda Adaptive Defense 360 - 3 Year - 101 to 500 licenses
Minimum 101 quantity
#WGAD3033
Our Price: $126.50
WatchGuard Panda Adaptive Defense 360 - 501 to 1000 licenses
Panda Adaptive Defense 360 - 1 Year - 501 to 1000 licenses
Minimum 501 quantity
#WGAD3041
Our Price: $44.50
Panda Adaptive Defense 360 - 3 Year - 501 to 1000 licenses
Minimum 501 quantity
#WGAD3043
Our Price: $107.00
WatchGuard Panda Patch Management - 1 Year
Panda Patch Management - 1 Year - 1 to 10 users
#WGPAT011
Our Price: $24.00
Panda Patch Management - 1 Year - 11 to 25 users
Minimum 11 quantity
#WGPAT021
Our Price: $23.00
Panda Patch Management - 1 Year - 26 to 50 users
Minimum 26 quantity
#WGPAT031
Our Price: $21.50
Panda Patch Management - 1 Year - 51 to 100 users
Minimum 51 quantity
#WGPAT041
Our Price: $20.00
Panda Patch Management - 1 Year - 101 to 250 users
Minimum 101 quantity
#WGPAT051
Our Price: $18.00
Panda Patch Management - 1 Year - 251 to 500 users
Minimum 251 quantity
#WGPAT061
Our Price: $15.50
Panda Patch Management - 1 Year - 501 to 1000 users
Minimum 501 quantity
#WGPAT071
Our Price: $13.50
Panda Patch Management - 1 Year - 1001 to 3000 users
Minimum 1001 quantity
#WGPAT081
Our Price: $11.00
Panda Patch Management - 1 Year - 3000+ users
Minimum 3001 quantity
#WGPAT091
Our Price: $9.00
WatchGuard Panda Patch Management - 3 Year
Panda Patch Management - 3 Year - 1 to 10 users
#WGPAT013
Our Price: $58.00
Panda Patch Management - 3 Year - 11 to 25 users
Minimum 11 quantity
#WGPAT023
Our Price: $55.00
Panda Patch Management - 3 Year - 26 to 50 users
Minimum 26 quantity
#WGPAT033
Our Price: $52.00
Panda Patch Management - 3 Year - 51 to 100 users
Minimum 51 quantity
#WGPAT043
Our Price: $47.50
Panda Patch Management - 3 Year - 101 to 250 users
Minimum 101 quantity
#WGPAT053
Our Price: $43.00
Panda Patch Management - 3 Year - 251 to 500 users
Minimum 251 quantity
#WGPAT063
Our Price: $38.00
Panda Patch Management - 3 Year - 501 to 1000 users
Minimum 501 quantity
#WGPAT073
Our Price: $32.50
Panda Patch Management - 3 Year - 1001 to 3000 users
Minimum 1001 quantity
#WGPAT083
Our Price: $27.00
Panda Patch Management - 3 Year - 3000+ users
Minimum 3001 quantity
#WGPAT093
Our Price: $21.50
WatchGuard Panda Full Encryption - 1 Year
Panda Full Encryption - 1 Year - 1 to 10 users
#WGENC011
Our Price: $18.00
Panda Full Encryption - 1 Year - 11 to 25 users
Minimum 11 quantity
#WGENC021
Our Price: $17.00
Panda Full Encryption - 1 Year - 26 to 50 users
Minimum 26 quantity
#WGENC031
Our Price: $16.00
Panda Full Encryption - 1 Year - 51 to 100 users
Minimum 51 quantity
#WGENC041
Our Price: $15.00
Panda Full Encryption - 1 Year - 101 to 250 users
Minimum 101 quantity
#WGENC051
Our Price: $13.50
Panda Full Encryption - 1 Year - 251 to 500 users
Minimum 251 quantity
#WGENC061
Our Price: $12.00
Panda Full Encryption - 1 Year - 501 to 1000 users
Minimum 501 quantity
#WGENC071
Our Price: $10.00
Panda Full Encryption - 1 Year - 1001 to 3000 users
Minimum 1001 quantity
#WGENC081
Our Price: $8.50
Panda Full Encryption - 1 Year - 3000+ users
Minimum 3001 quantity
#WGENC091
Our Price: $6.50
WatchGuard Panda Full Encryption - 3 Year
Panda Full Encryption - 3 Year - 1 to 10 users
#WGENC013
Our Price: $43.50
Panda Full Encryption - 3 Year - 11 to 25 users
Minimum 11 quantity
#WGENC023
Our Price: $41.50
Panda Full Encryption - 3 Year - 26 to 50 users
Minimum 26 quantity
#WGENC033
Our Price: $39.00
Panda Full Encryption - 3 Year - 51 to 100 users
Minimum 51 quantity
#WGENC043
Our Price: $35.50
Panda Full Encryption - 3 Year - 101 to 250 users
Minimum 101 quantity
#WGENC053
Our Price: $32.00
Panda Full Encryption - 3 Year - 251 to 500 users
Minimum 251 quantity
#WGENC063
Our Price: $28.50
Panda Full Encryption - 3 Year - 501 to 1000 users
Minimum 501 quantity
#WGENC073
Our Price: $24.50
Panda Full Encryption - 3 Year - 1001 to 3000 users
Minimum 1001 quantity
#WGENC083
Our Price: $20.00
Panda Full Encryption - 3 Year - 3000+ users
Minimum 3001 quantity
#WGENC093
Our Price: $16.00