WatchGuard DNSWatch

Keeping End Users Safe from Phishing Attacks

Contact Us For More Information
DNSWatch is only available in the Total Security Suite; it is not offered a la carte.
Phishing is one of the greatest threats facing small business and midsize enterprise organizations today. You need a solution that protects your end users from these attacks, but also educates your people when they make mistakes. WatchGuard DNSWatch detects malicious DNS requests and blocks access to these sites, redirecting the user to a safe page that educates them on the risk and warning signs of a phish. These events are teaching moments for you and a very effective way to engage people about the risks of clicking on phishes and the value of multi-factor authentication.
Key Features
DNS level detection, providing an additional layer of security to block malicious DNS requests
Automatically protects end users from phishing attacks
Provides immediate phishing education to heighten end user awareness after an attack
Offers detailed information on the attacker, type of attack and attacker goals without requiring you to comb through logs
100% cloud-based, making it easy to deploy and manage, saving you time and money
Complements RED and WebBlocker to block malicious threats
Defend Against Phishing
90% of attacks start with a phish. It's critical that IT admins and MSSPs have the right security in place to protect their end users from these phishing attacks. WatchGuard DNSWatch monitors and detects outbound DNS requests, blocking malicious ones and redirecting the user to a safe page. Included with Total Security Suite, DNSWatch adds yet another layer of protection for end users.
Education at the Time of Attack
Everyone knows you need to train employees about phishing - but how do you make sure they pay attention? Even the best trained employees will make a mistake, either in haste or with a super well-disguised phish. DNSWatch enables you to protect against the click and provide on-the-spot training to reinforce phishing awareness. By receiving instant education, the user is most likely to be receptive to the concepts.
Extend the Reach of Your Team
IT admins and MSSPs never need more work to do. Cloud-based DNSWatch extends the reach of your team without any additional work. Simply turn DNSWatch on and you will automatically start benefiting from additional phishing protection. Threats are blocked, education is reinforced, and attacks are analyzed without the need to hire additional staff.
How It Works
WatchGuard DNSWatch monitors outbound DNS requests, correlating them against an aggregated list of malicious sites. Requests that are determined to be malicious are blocked, redirecting the user to a safe site to reinforce their phishing training.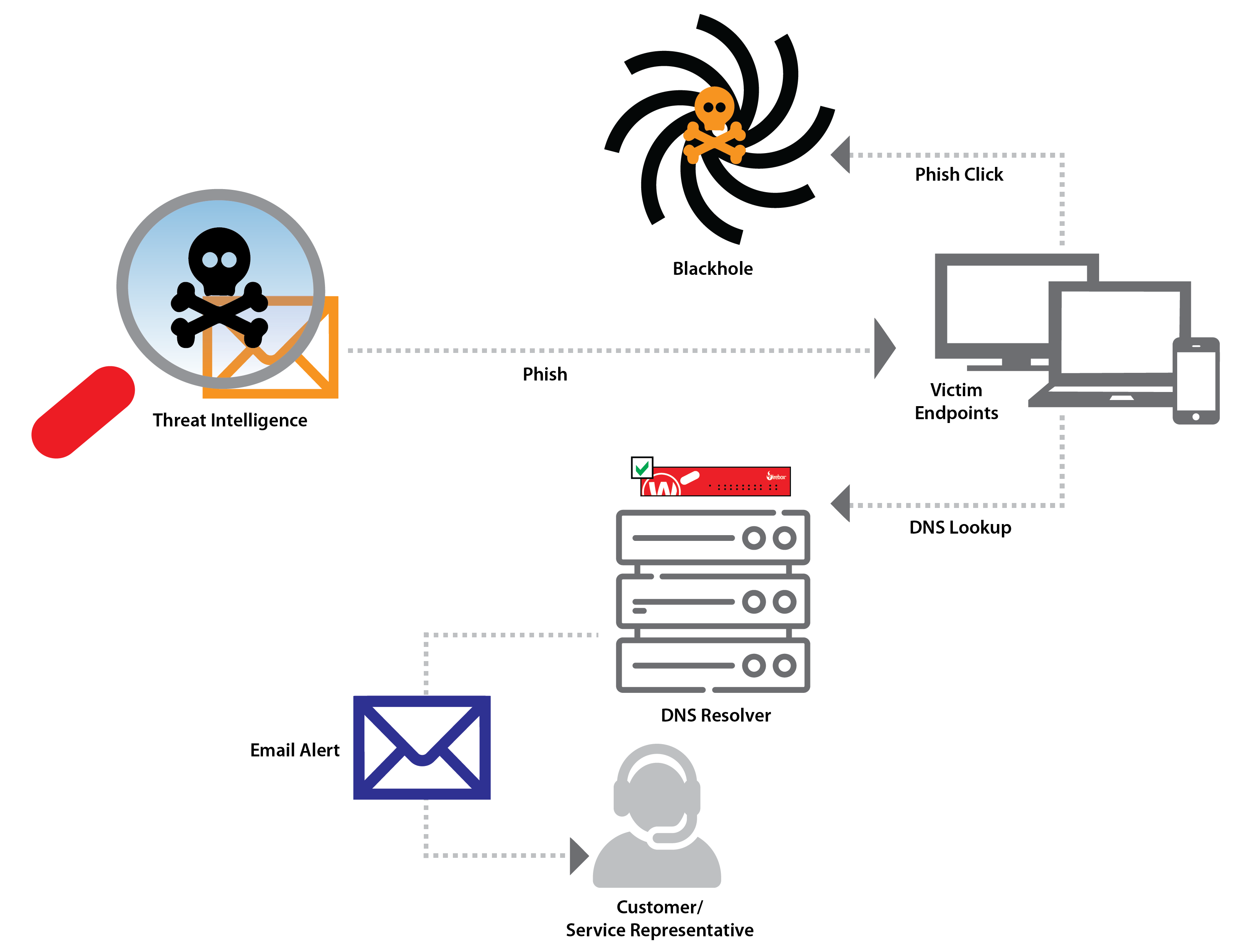 Documentation
Download the WatchGuard DNSWatch Datasheet (PDF).
Contact Us For More Information