WatchGuard Advanced Reporting Tool

Actionable IT and Security Intelligence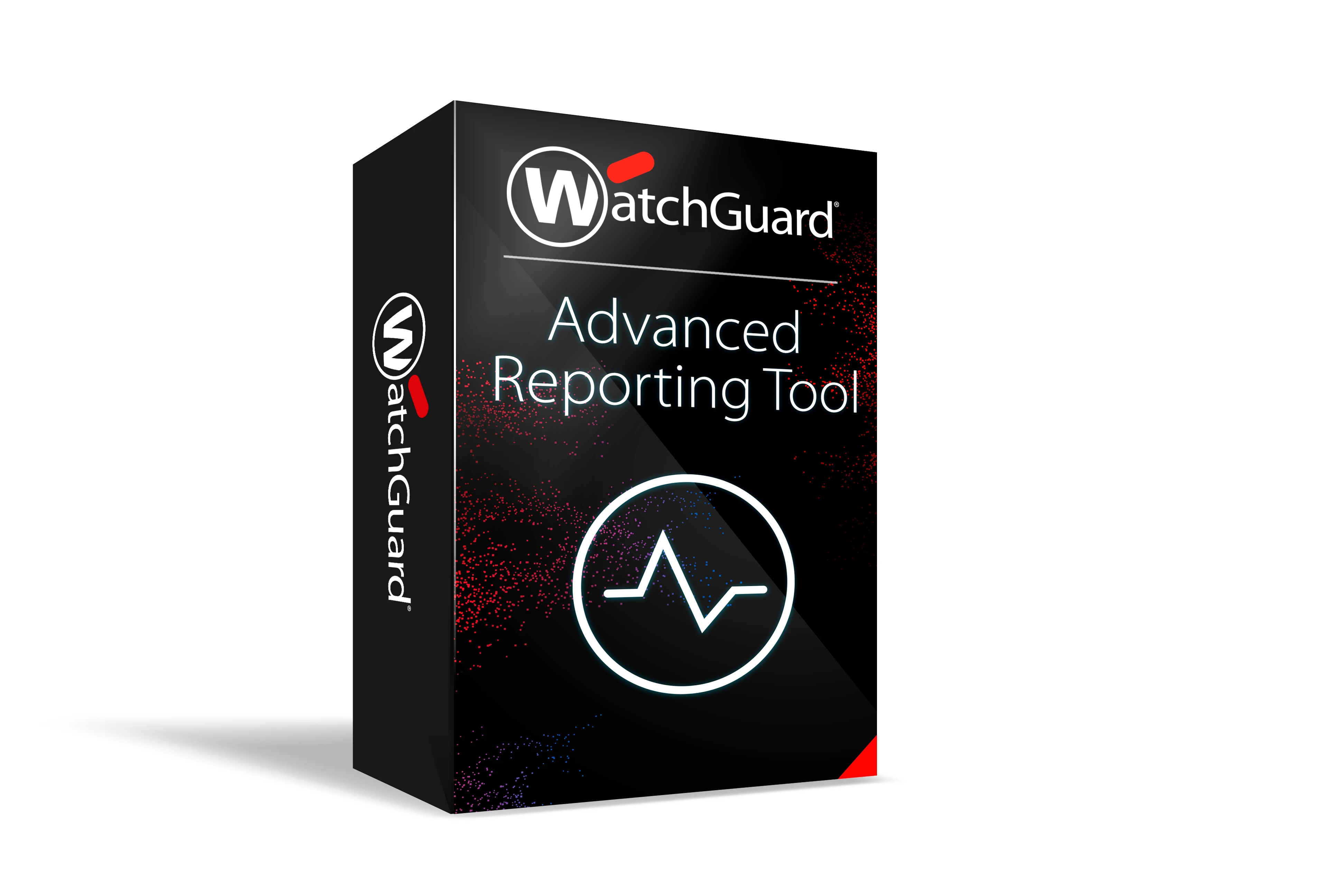 WatchGuard Products
Advanced Reporting Tool - 1 to 50 licenses
Advanced Reporting Tool - 1 Year - 1 to 50 licenses
#WGINSG30101
Our Price: $17.50
Advanced Reporting Tool - 3 Year - 1 to 50 licenses
#WGINSG30103
Our Price: $42.00
Advanced Reporting Tool - 51 to 100 licenses
Advanced Reporting Tool - 1 Year - 51 to 100 licenses
Minimum 51 quantity
#WGINSG30201
Our Price: $15.40
Advanced Reporting Tool - 3 Year - 51 to 100 licenses
Minimum 51 quantity
#WGINSG30203
Our Price: $37.00
Advanced Reporting Tool - 101 to 250 licenses
Advanced Reporting Tool - 1 Year - 101 to 250 licenses
Minimum 101 quantity
#WGINSG30301
Our Price: $13.70
Advanced Reporting Tool - 3 Year - 101 to 250 licenses
Minimum 101 quantity
#WGINSG30303
Our Price: $32.80
Advanced Reporting Tool - 251 to 500 licenses
Advanced Reporting Tool - 1 Year - 251 to 500 licenses
Minimum 251 quantity
#WGINSG30401
Our Price: $12.30
Advanced Reporting Tool - 3 Year - 251 to 500 licenses
Minimum 251 quantity
#WGINSG30403
Our Price: $29.40
Advanced Reporting Tool - 501 to 1000 licenses
Advanced Reporting Tool - 1 Year - 501 to 1000 licenses
Minimum 501 quantity
#WGINSG30501
Our Price: $10.50
Advanced Reporting Tool - 3 Year - 501 to 1000 licenses
Minimum 501 quantity
#WGINSG30503
Our Price: $25.20
Advanced Reporting Tool - 1001 to 5000 licenses
Advanced Reporting Tool - 1 Year - 1001 to 5000 licenses
Minimum 1001 quantity
#WGINSG30601
Our Price: $9.00
Advanced Reporting Tool - 3 Year - 1001 to 5000 licenses
Minimum 1001 quantity
#WGINSG30603
Our Price: $21.90
Advanced Reporting Tool - 5001+ licenses
Advanced Reporting Tool - 1 Year - 5001+ licenses
Minimum 5001 quantity
#WGINSG30701
Our Price: $7.90
Advanced Reporting Tool - 3 Year - 5001+ licenses
Minimum 5001 quantity
#WGINSG30703
Our Price: $18.90
Click here to jump to more pricing!
Overview:
STRENGTHEN YOUR SECURITY POSTURE PROACTIVELY
The increase in the volume of security data handled by organizations prevents IT Teams from adequately focusing on essential details. This information can be used to detect security issues and breaches caused by both external factors and company insiders.
Security professionals are overwhelmed with the amount of data. The large volumes of information handled and the appearance of next-generation malware causes many details to be overlooked or not registered, compromising the entire system's security.
WATCHGUARD ADVANCED REPORTING TOOL
Advanced Reporting Tool (ART) platform automates the storage and correlation of information generated by the execution of processes and their context, extracted from endpoints by WatchGuard EPDR and WatchGuard EDR without having to invest in infrastructure, facilities or maintenance.
This information enables WatchGuard Advanced Reporting Tool to automatically generate security intelligence and provide tools that allow organizations to pinpoint attacks and unusual behaviors, regardless of their origin, as well as detecting internal misuse of the corporate network and systems.
The Advanced Reporting Tool provides organizations with the capacity to search, explore and analyze, offering IT and security insights such as:
Determining the origin of security incidents and applying security measures to prevent future attacks.
Implementing more restrictive policies for accessing critical business information.
Monitoring and controlling misuse of corporate resources that may have an impact on business and employee performance.
Correcting employee behavior that is not in line with the company's usage policies.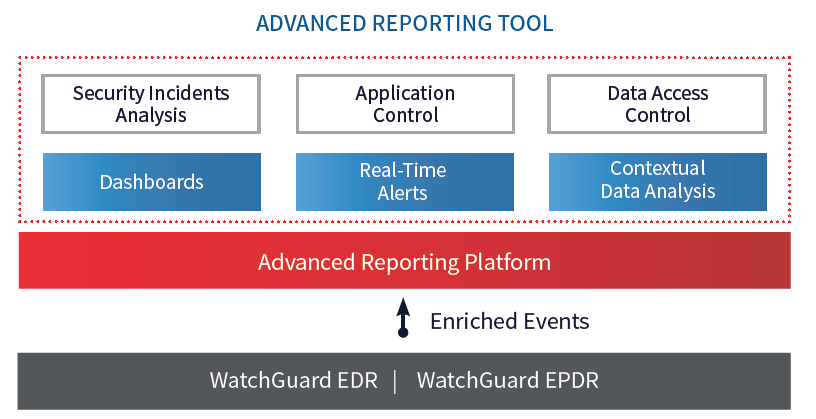 BENEFITS
Access to critical information
Maximize visibility into everything that occurs on every device and increase IT department efficiency and productivity
Access historical data to analyze corporate resource security and usage indicators
Get in-depth information to identify security risks and insider misuse of the IT infrastructure
Unravel network issues
Extract resource usage and user behavior patterns. Use this information to educate users and implement cost-saving policies
Gain visibility into computers and applications running on your network to improve the security and control of your corporate assets.
Alert and be alerted
Transform anomaly detection into real-time alerts and reports
Build business confidence, flagging security anomalies and employee misuse of IT resources in real time
Be prepared to face security incidents
Generate configurable reports to perform methodical analyses of your company's security posture, identify misuse of corporate assets and find behavioral anomalies
Show the status of key security indicators and track their evolution over time as a consequence of the corrective actions taken
---
Pricing Notes:
Pricing and product availability subject to change without notice.
WatchGuard Products
Advanced Reporting Tool - 1 to 50 licenses
Advanced Reporting Tool - 1 Year - 1 to 50 licenses
#WGINSG30101
Our Price: $17.50
Advanced Reporting Tool - 3 Year - 1 to 50 licenses
#WGINSG30103
Our Price: $42.00
Advanced Reporting Tool - 51 to 100 licenses
Advanced Reporting Tool - 1 Year - 51 to 100 licenses
Minimum 51 quantity
#WGINSG30201
Our Price: $15.40
Advanced Reporting Tool - 3 Year - 51 to 100 licenses
Minimum 51 quantity
#WGINSG30203
Our Price: $37.00
Advanced Reporting Tool - 101 to 250 licenses
Advanced Reporting Tool - 1 Year - 101 to 250 licenses
Minimum 101 quantity
#WGINSG30301
Our Price: $13.70
Advanced Reporting Tool - 3 Year - 101 to 250 licenses
Minimum 101 quantity
#WGINSG30303
Our Price: $32.80
Advanced Reporting Tool - 251 to 500 licenses
Advanced Reporting Tool - 1 Year - 251 to 500 licenses
Minimum 251 quantity
#WGINSG30401
Our Price: $12.30
Advanced Reporting Tool - 3 Year - 251 to 500 licenses
Minimum 251 quantity
#WGINSG30403
Our Price: $29.40
Advanced Reporting Tool - 501 to 1000 licenses
Advanced Reporting Tool - 1 Year - 501 to 1000 licenses
Minimum 501 quantity
#WGINSG30501
Our Price: $10.50
Advanced Reporting Tool - 3 Year - 501 to 1000 licenses
Minimum 501 quantity
#WGINSG30503
Our Price: $25.20
Advanced Reporting Tool - 1001 to 5000 licenses
Advanced Reporting Tool - 1 Year - 1001 to 5000 licenses
Minimum 1001 quantity
#WGINSG30601
Our Price: $9.00
Advanced Reporting Tool - 3 Year - 1001 to 5000 licenses
Minimum 1001 quantity
#WGINSG30603
Our Price: $21.90
Advanced Reporting Tool - 5001+ licenses
Advanced Reporting Tool - 1 Year - 5001+ licenses
Minimum 5001 quantity
#WGINSG30701
Our Price: $7.90
Advanced Reporting Tool - 3 Year - 5001+ licenses
Minimum 5001 quantity
#WGINSG30703
Our Price: $18.90